Live Nation Entertainment
by Gregorio Ernesto Feliciano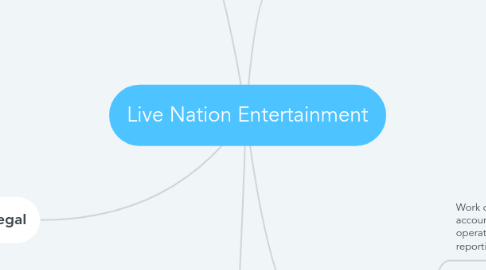 1. Concert Venue Operations
1.1. Communicate new content for training.
1.2. Provide live support for high-volume on sales and events.
1.3. Execute and complete other projects and duties as assigned by VP of Operational Services.
1.4. Ensure all departments are adequately staffed for every event (adequately for each individual staffing level).
1.5. Ensure record keeping and proper filling of; Pre-Event Inspection Reports, Event Related Incident Reports, Workman Comp/General Liability Claims.
2. Finance
2.1. Work directly with local and corporate accounting / finance, booker, venue and operations teams for monthly forecast and reporting.
2.2. Make sure that all receivables, receipts, and payable items are processed and recorded accurately and timely; participate in and monitor collection of receivables.
2.3. Ensure all Invoicing requests meet the requirements needed for audit purposes and to generate a client Invoice.
2.4. Initiating payments for items such as rent and taxes.
2.5. Inputting show checks used during the day/night of the show into Oracle.
3. Marketing
3.1. Lead the day-to-day execution, management, and optimization of paid social campaigns for Live Nation's national marketing division supporting U.S. Concerts.
3.2. Develop marketing and promotional plans for events including radio, television, print, outdoor, grassroots and online marketing efforts.
3.3. Post social media updates via Live Nation and venue Facebook, Instagram and Twitter pages.
3.4. Manage the database and dissemination of e-cards and newsletters for all Florida Live Nation shows to ensure database performance and lowest opt-out percentage.
3.5. Serve as a content producer (curator, writer, editor) to create editorial stories and opportunities to inform, engage and inspire our followers.
4. Legal
4.1. Draft, review, analyze, advise on and interpret contracts in an accurate and timely manner, including venue license/rental contracts, artist contracts, sell-off contracts, production contracts, special event contracts, co-promotion contracts and vendor contracts.
4.2. Advise internal clients on various event production and promotion-related matters, including basic risk assessment in consultation with risk management.
4.3. Create and update templates for various agreements.
4.4. Maintaining the contract filing database.
4.5. Preparing business license applications and complete any required government/regulatory forms on behalf of the company.
5. Product Management
5.1. Create custom presentation templates that help emphasize that our ideas are personalized to the brand.
5.2. Collaborate with Product leadership to map new feature development back to a strategic product roadmap.
5.3. Conduct research collaboratively with designers and product managers from planning to participant sessions to group analysis and synthesis of findings to build shared knowledge and understanding with team.
5.4. Assist Senior Graphic Designer in all design projects.
5.5. Conceptualize, illustrate, design for various LNM Tour, Retail, Web, Licensing, and VIP projects per design direction, production and request parameters.