VIRTUAL FIELD TRIP: CHINA'S GREAT FOREST ESSENTIAL QUESTION: How can I relate information I already know about the habitats to real-world experiences?
by Melissa Gibson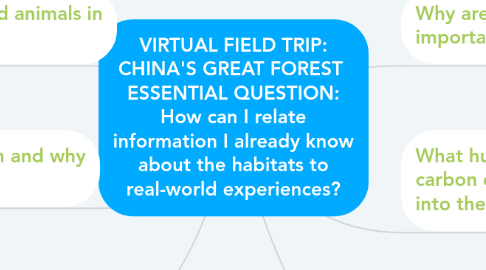 1. Why are forest and trees important to humans?
1.1. Forest are important because we use wood from forests for building, making paper, and building fires. People go camping, hiking, and fishing in the forest. Trees are important because they produce oxygen, which humans and animal need to survive
2. What human activities cause carbon dioxide to be released into the air?
2.1. The burning of fossil fuels like coal and gas.
3. List some endangered animals in China.
3.1. Giant Panda, Golden Monkey, Red Panda
4. What is deforestation and why does it happen?
4.1. Permanent destruction of forests. Agriculture is the main cause.
5. What is habitat fragmentation?
5.1. When large habitats are divided into smaller patches.
6. Describe ways that people can help decrease deforestation and increase reforestation.
6.1. We can reduce our use of paper products and recycle. We can also plant trees in our community.