WI State Symbols
by
Joan Schlough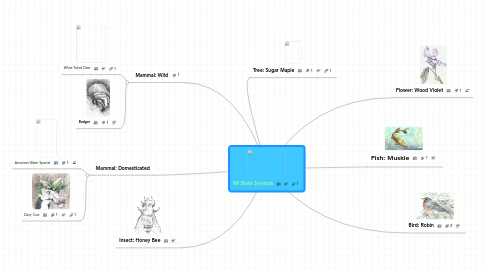 0.0
stars - reviews range from
0
to
5
These are the Wisconsin State Symbols on our state flag. On our flag our motto reads "Forward." Do you think we are moving ahead?
Bird: Robin
A great blue heron always fishes from our dock. What birds have you seen through binoculars?
Mammal: Wild
White-Tailed Deer
Badger
Fish: Muskie
Do you ever go fishing? Which is better...catching, cleaning, or eating the fish? Did you like sitting in the boat with your mom and dad the most?
Mammal: Domesticated
American Water Spaniel
Dairy Cow
Insect: Honey Bee
Some people think that the state insect should be a mosquito? Do you know why bees are important? Is there an insect that is important to you?
This artwork is by William Bartram who lived in PA. He was a son of naturalist. Do you think you are a naturalist?
Flower: Wood Violet
I drew this picture of a wood violet because I enjoyed seeing them hiking. What do you do outside in WI. Are you usually in the city or country?