Bobby Audy
by Bobby Audy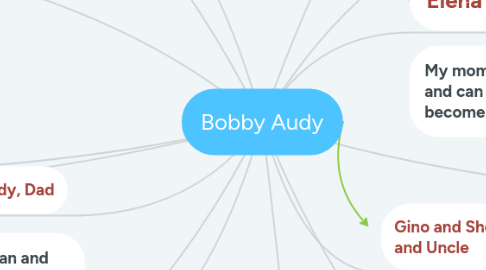 1. Elena Audy, Mom
2. Gino and Shelly Panucci , Aunt and Uncle
3. Robert Audy, Dad
4. Matt Panucci, Cousin
5. Armando and Anastasia Audy, Brother and Sister
6. Mike, Moms tennis friend
7. Taylor, Matts friend
8. Brothers baseball coach
9. Dads, friend Rob
10. Their Neighbors
11. My mom works in the hospital and can help me prepare to become a doctor.
12. He can teach me how to string a tennis racquet so I can do it myself.
13. They give me things to do and teach me a lot about everything.
14. They give me work to do in the summer.
15. He gives me lots of great advice and he can get some part time jobs for me.
16. Can get me a landscaping job in the summer to stay busy.
17. Helps me become a man and opens up possible career paths.
18. Can teach me how to work construction and get me some early experience.
19. They keep me on my toes and give me experience being an adult.
20. Can get me a job helping little kids with sports and fundraising.
21. Doctor
22. Could tell me how he or she got through school and completed their residency.
23. firefighter
24. Help me with volunteer work.
25. Councilor
26. I am very interested in kids and I would really enjoy a career helping kids.
27. Political Party Member
28. Learn more about politics and how they impact our country.
29. Store Owner
30. Learn how run and maintain a business