Initial Action Research Plan TASK 4
by carrie lizmore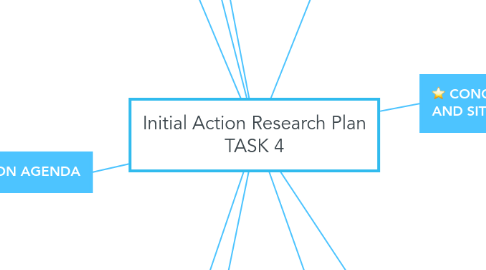 1. Phase 3 Sept - Dec 2018 -EXPAND CASE STUDY INTERVENTION TO -INCLUDE CLASSROOMS 2 & 3 -DETERMINE BASELINES FOR ACHIEVEMENT -USE AND ON-GOING EVALUATION OF -QUANTITATIVE DATA COLLECTION -INSTRUMENTS TO MEASURE PROGRESS -FOCUS GROUP 2 -DATA ANALYSIS AND INTERPRETATION
1.1. Top Priorities
1.2. Medium Priorities
1.3. Low Priorities
2. Phase 4 Jan - June -EXPAND CASE STUDY INTERVENTION TO -INCLUDE SCHOOLS 2 & 3 -DETERMINE BASELINES FOR -ACHIEVEMENT -USE AND ON-GOING EVALUATION OF -QUANTITATIVE DATA COLLECTION -INSTRUMENTS TO MEASURE PROGRESS -FOCUS GROUP 3 -DATA ANALYSIS AND INTERPRETATION
3. RESEARCH PROBLEM: The impact of direct instruction on language acquisition for non-reading students with developmental disabilities (DD), mild intellectual disability (MID), and autism spectrum disorder (ASD).
3.1. RATIONALE: The purpose behind this study is to examine the efficacy of the existing model of instruction for students with developmental disabilities and to explore alternative methods of instruction delivery with the goal of challenging the status quo of the existing model of practice, by changing, modifying and improving it.
3.2. CENTRAL QUESTION: What is the impact of direct instruction on language acquisition for non-reading students with DD, MID and ASD? What teaching and learning methods and approaches do teachers currently use in Developmental Education?
3.3. SUB QUESTIONS: 1. What are the main factors that influence learning for students with developmental disabilities? How is this different from mainstream students? 3. Under what conditions can teachers deliver effective direct instruction? 4. What direct instruction programs have proven to be most effective for youth with developmental disabilities?
4. Sample of Research Participants
4.1. CASE STUDY INTERVENTION
4.1.1. STUDENTS
4.1.1.1. DEVELOPMENTAL EDUCATION STUDENTS IN CONGREGATED CLASSROOMS WHO ARE AGE 15 TO 17 AND BELOW GRADE 5 READING LEVEL
4.2. SURVEYS
4.2.1. GUARDIANS
4.2.2. RELEVANT PROFESSIONALS
4.2.2.1. DOCTORS, SOCIAL WORKERS AND OTHER PROFESSIONALS WITH A VESTED INTEREST IN THE TOPIC
4.2.3. TEACHERS
4.3. FOCUS GROUP
4.3.1. RELEVANT PROFESSIONALS
4.3.2. TEACHERS
5. RESEARCH METHODOLOGY
5.1. Mixed Methods - both qualitative and quantitative data collection methods within the design of:
5.2. -DISABILITY THEORY TRIANGULATION The data is then interpreted and analyzed through disability theory triangulation, a group of people from different disciplines or positions to allow for different perspectives.
6. ACTION AGENDA
6.1. DESIGN ACTION RESEARCH PLAN AND BEGIN RESEARCH
6.1.1. Project specifications
6.1.2. End User requirements
6.1.3. Action points sign-off
6.2. Phase 1 Jan- May 2018
6.2.1. QUALITATIVE SURVEY QUANTITATIVE SURVEY REVIEW OF FILES OSR file review of 32 students with developmental disabilities
6.2.2. ANNOTATED BIBLIOGRAPHY (includes all relevant sources available) LITERATURE REVIEW ANALYSIS
6.2.3. INTERVIEWS CONDUCTED: Dr A. S. - Child and Adolescent Psychologist Dr L. J. - Medical Practitioner Psychiatrist J. B. - Former Principal Ministry Demonstration School J. P. - Learning Coordinator and Speech Pathologist
6.3. Phase 2 March - June 2018 -DEVELOP QUANTITATIVE DATA -COLLECTION INSTRUMENTS -DETERMINE BASELINES FOR ACHIEVEMENT -DETERMINE MEASURES FOR PROGRESS -FOCUS GROUP 1 -BEGIN CASE STUDY INTERVENTION FOR -CLASSROOM 1 -USE AND ON-GOING EVALUATION OF -QUANTITATIVE DATA COLLECTION -INSTRUMENTS TO MEASURE PROGRESS -DATA ANALYSIS AND INTERPRETATION
6.3.1. Top Priorities
6.3.2. Medium Priorities
6.3.3. Low Priorities
6.4. Final Phase -EMBED ANALYSE AND INTERPRET -FINAL RESULTS OF DATA -THROUGH DISABILITY THEORY -TRIANGULATION
7. POSSIBLE RESEARCH LIMITATIONS AND ETHICAL ISSUES
7.1. BIAS This study aims to respect the ethical standards of research, to protect the privacy of participants and to recognize and avoid bias during all stages and phases of the research process. The goal is to collect, interpret and apply knowledge in a truthful manner. Given that the potential transformative implications of favourable findings may present challenges in avoiding bias, compliance with ethical standards of research is the guiding principle for this study.
7.1.1. Materials
7.1.2. Personnel
7.1.3. Services
7.1.4. Duration
7.2. PRIVACY Privacy of participants protected
7.3. CONSENT Informed consent signed by participants and guardians
8. CONCEPTUAL FRAMEWORK AND SITE DESCRITION
8.1. CONTEXTUAL FRAMEWORK: -Students with developmental delays learn differently and mature at a slower rate, cognitively, physically and emotionally, in comparison to their mainstream peers. There is data to support the assumption that there are a disproportionately large number of adults with disabilities who transition to elementary school programs to secondary school programs, and again from secondary to post-secondary, as non-readers. This problem might be attributed to the current instruction methods for literacy instruction in elementary schools and the lack of literacy instruction training for teachers within the secondary panel. Direct instruction methods are not currently used for literacy instruction in elementary or secondary classrooms.
8.2. SITE DESCRIPTION: -Congregated classrooms in secondary schools -10 students age 15-20 per classrooms -Phase 2, one classroom; -Phase 3, three classrooms; -Phase 4, eight classrooms. -Surveys distributed to participants' families, teachers and relevant professionals within the community - completed off-site
9. EVALUATION AND ANALYSIS OF RESEARCH
9.1. -Literature review analysis -Research report Quantitative Data -Statistical analysis -Comparing groups -Relating variables Qualitative Data -Coding -Theme development -Relating themes -Interpretation -Personal reflexivity Embedded data -Quantitative data collection and analysis pre-intervention -Qualitative data collection and analysis before, during and after intervention -Quantitative data collection during intervention to measure progress -Quantitative data collection and analysis post-intervention merged with qualitative data to determine results -Disability theory triangulation Analysis and interpretation of data from different perspectives
10. MEANING FOR DEVELOPMENTAL EDUCATION GROUPS:
10.1. PREVENTATIVE MEASURES: Early Intervention - Implement rigorous intervention programming before modifying the curriculum. Competency - All teacher candidates, regardless of panel or teachable subjects, are trained to deliver direct instruction and to teach language acquisition and reading as a special education component during teacher training.
10.2. DEVELOPMENTAL EDUCATION TEACHING PRACTICES: Practice a linguistics approach to re-teaching fundamental literacy and reading skills. Set clear consistent standards for student achievement in developmental education. Use direct instruction methods. Teach with the assumption that students in developmental classrooms will require all of the skills and competencies necessary for securing gainful employment in their areas of strength and interest.