Can you move this map?
by
Xander Kaaij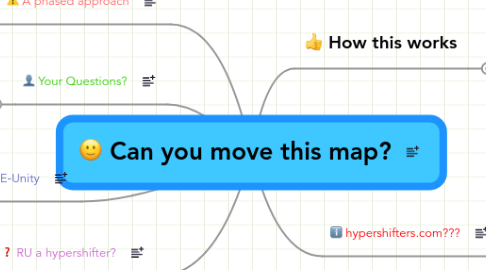 5.0
stars -
1
reviews range from
0
to
5
Can you move this map?
The field of computer supported idea visualization is buzzing with activity. It started out with mindmapping, but today there are many more ways of visualizing data, information and knowledge and dozens of software applications, each with their strengths and weaknesses.
hypershifters.com???
Hypershifters cover all solutions that are available on the market, including open source and freeware packages.  Hypershifters.com helps people decide, and for that purpose it offers product reviews, a forum, a selection wizard, a blog, and other things.
reviews
forum
selection wizard
blog
more...
RU a hypershifter?
Are you a knowledge worker or hypershifter? That's the question. Can you cope with the information overload? Are you using new means, methods and instruments to sense and respond? To associate, enrich data, structure information, communicate visually, think laterally, collaborate through the web, structure information and monitor your projects? If you do you are part of what we call the new generation of knowledge workers. You are a hypershifter.
associate
enrich data
structure information
monitor your projects
sense and respond
COME-Unity
The key to the success of hypershifters.com is the community that develops around it. Everything about the site must be designed with this idea in mind: people should be stimulated to help build the knowledge base and get their questions answered. This only works if someone starts turning the wheel and than many help to keep it turning.  We intend to start turning the wheel(s);-).
Your Questions?
Hypershifters.com supports all questions about computer supported idea visualization, with a focus on tooling. Visitors have a concrete question or a business problem that they want to solve using visualization software.
How can I do X with a visualization tool?
What is the best tool (given my IT environment)?
Has it been used for my type of application?
What are the strong and weak sides?
What do I need to pay attention to?
A phased approach
The full concept of hypershifters.com is ambitious and requires serious investments. Therefore we adopt a phased approach. The site will initially be launched with a limited set of topics and features, to 'test the water'. If the concept proves viable, we will gradually expand with more functionality. In the first phase we will ask you to help us test 'old' and new ways of visualization. The first tool we would like you to help us 'test drive' is a relative newcomer called 'Mindmeister', an interesting and  innovative tool (on paper) launched as an 'online mindmapping tool' with characteristics of an offline application thanks to Google Gears. Click here for a Wiki definition.
How this works
Click on the + icon at the end of a branch to see what's on the next level
Click on + or – in the left corner of this window to zoom and re-center
Click and hold mouse button to move the map
Click on notes icon at the end of a branch to see what is in the notes
In the on-line version (please subscribe for test drive) you can add and delete information in the map