The Ecology of Commerce
by
Aric Ho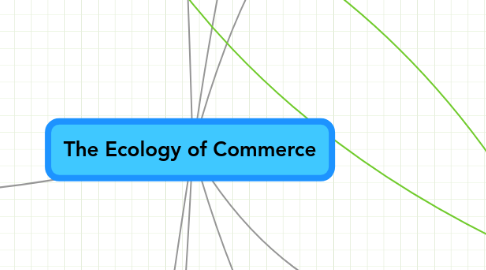 0.0
stars - reviews range from
0
to
5
The Ecology of Commerce
Equilibrium - Sustaining and self preserving: Efficient
Pioneering - thrash and burn = high/fast production
Grow without increased demand of resources
Add value to the economy
Make a positive contribution to society
Management of toxic business is inefficient
"The seeds of corporate dysfunction reside in the nature of business (today), not in size of enterprise."
Intelligent Product System - Braungart & Englefried
The Economics of Welfare - A.C. Pigou (82)
Competition should not be between wasting the environment Vs. Saving, but between those that can do the best job in restoring.
Growth Vs. Development
Medicine
Energy
Guidelines for Sustainable Business
Market for Efficiency
The resource War
By definition: Uneconomical
Cradle to grave vs cradle to cradle
Things to Research
Department of Neighborhoods
Dynamic Governance
Industrial Ecology
Kalundborg - Novo Nordisk
Economies of Scale
Menominee
Guardian
Commerce
Examples of Conflict between the two systems
Waste = Food - The elimination of waste from industrial production
Carbon Economy -> Hydrogen/Sunshine economy - revering incentives surrounding production and consumption of energy - Amory Lovin's "Soft Path"
Systems of Feedback/Accountability that support restorative behavior
New Idea