What is your role as a Patient Care Technician during a code?
by Jebb Sagun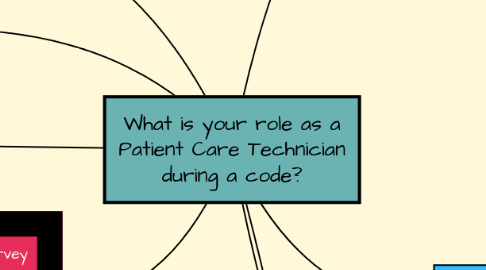 1. Objectives
1.1. Clear identification, primary responsibilities, and position related to the patient during a code
1.2. Improve self-confidence
1.3. Discuss role of a tech during a code
2. Disclosure
2.1. None
3. Literature Research
3.1. https://www.ncbi.nlm.nih.gov/pmc/articles/PMC4563641/ http://www.clinmedres.org/content/12/1-2/47
3.1.1. Research and prepare experiment
4. Survey
4.1. a. What is your role during a code? b. Is it clear where you are to be positioned during a code? Yes/No? c. Do you feel confident in your skills specific to your assigned role during a code?
4.1.1. New vocabulary
4.2. Results: a. Common theme: Performing CPR, runner for supplies, connecting the patient to the monitor b. Mostly no c. Mixed result
5. Gap
5.1. little information that is available about a code team role identification and definition particularly for a tech
6. Discussion
6.1. Code Blue
6.1.1. As a valuable member, could you think of some tasks that you can do after watching the video?
6.2. Calling a code
6.2.1. Code button
6.2.2. Calling 777 or depends on the hospital policy/protocols
6.3. Non-medical Skill
6.3.1. Communication
6.3.1.1. Crowd control
6.3.1.2. Direct traffic
6.3.2. Leadership
6.3.2.1. Calling resources (chaplain, labs, x-ray tech)
6.3.2.2. Supporting family members
6.3.3. Team interaction
6.3.3.1. Supervising the quality of CPR
6.3.3.2. recorder
6.3.4. Task coordination
6.3.4.1. Getting the crash cart
6.3.4.2. Running for supplies
6.3.4.3. Assisting transport
6.4. Medical Skill
6.4.1. CPR
6.4.2. Ventilation
7. Conclusion
7.1. Identifiable roles and clear is a key in a successful code
7.2. increased access to mock code or simulations is beneficial
7.3. Take a tasks you can perform successfully
7.4. clearly state when you need help
8. References Prince, C. R., Hines, E. J., Chyou, P.-H., & Heegeman, D. J. (2014). Finding the Key to a Better Code: Code Team Restructure to Improve Performance and Outcomes. Clinical Medicine & Research, 12(1-2), 47–57. Finding the Key to a Better Code: Code Team Restructure to Improve Performance and Outcomes Price, J. W., Applegarth, O., Vu, M., & Price, J. R. (2012). Code Blue Emergencies: A Team Task Analysis and Educational Initiative. Canadian Medical Education Journal, 3(1), e4–e20. Retrieved from https://www.ncbi.nlm.nih.gov/pmc/articles/PMC4563641