Mary McLeod Bethune
by Gabriella Agosto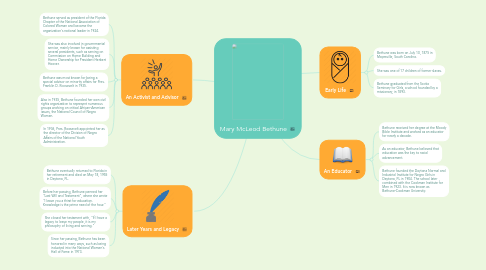 1. Early Life
1.1. Bethune was born on July 10, 1875 in Mayesville, South Carolina.
1.2. She was one of 17 children of former slaves.
1.3. Bethune graduated from the Scotia Seminary for Girls, a school founded by a missionary, in 1893.
2. An Educator
2.1. Bethune received her degree at the Moody Bible Institute and worked as an educator for nearly a decade.
2.2. As an educator, Bethune believed that education was the key to racial advancement.
2.3. Bethune founded the Daytona Normal and Industrial Institute for Negro Girls in Daytona, FL in 1904. The school later combined with the Cookman Institute for Men in 1923. It is now known as Bethune-Cookman University.
3. An Activist and Advisor
3.1. Bethune served as president of the Florida Chapter of the National Association of Colored Woman and became the organization's national leader in 1924.
3.2. She was also involved in governmental service, mainly known for assisting several presidents, such as serving on Commission on Home Building and Home Ownership for President Herbert Hoover.
3.3. Bethune was most known for being a special advisor on minority affairs for Pres. Franklin D. Roosevelt in 1935.
3.4. Also in 1935, Bethune founded her own civil rights organization to represent numerous groups working on critical African-American issues, the National Council of Negro Women.
3.5. In 1936, Pres. Roosevelt appointed her as the director of the Division of Negro Affairs of the National Youth Administration.
4. Later Years and Legacy
4.1. Bethune eventually returned to Florida in her retirement and died on May 18, 1955 in Daytona, FL.
4.2. Before her passing, Bethune penned her "Last Will and Testament", where she wrote "I leave you a thirst for education. Knowledge is the prime need of the hour."
4.3. She closed her testament with, "If I have a legacy to leave my people, it is my philosophy of living and serving."
4.4. Since her passing, Bethune has been honored in many ways, such as being inducted into the National Women's Hall of Fame in 1973.