INTELLIGENCE is the ability to reason, plan, solve problems, and comprehend ideas in order to learn and accomplish new tasks successfully.
by Peggy Ellis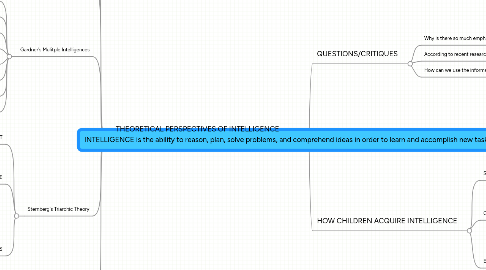 1. THEORETICAL PERSPECTIVES OF INTELLIGENCE
1.1. Spearman's g
1.1.1. Intelligence may involve a general ability to think and reason about a wide variety of tasks. Evidence indicates that an ability to process information quickly may be at its core.
1.2. Cattell's Fluid and Crystalized Intelligence
1.2.1. FLUID intelligence is the ability to acquire knowledge quickly and thereby adapt readily to new situations.
1.2.2. CRYSTALIZED intelligence is the knowledge and skills accumulated from prior experience adn schooling.
1.3. Gardner's Mulitple Intelligences
1.3.1. LINGUISTIC intelligence is the ability to use language effectively.
1.3.2. LOGICAL-MATHEMATICAL intelligence is the ability to reason logically, especially in mathematics and science.
1.3.3. SPATIAL intelligence is the ability to notice details of what one sees and to imagine and "manipulate" visual objects in one's mind.
1.3.4. MUSICAL intelligence is the ability to create, comprehend, and appreciate music.
1.3.5. BODILY-KINESTHETIC intelligence is the ability to use one's body skillfully.
1.3.6. INTERPERSONAL intelligence is the ability to notice subtle aspects of other people's behaviors.
1.3.7. INTRAPERSONAL intelligence is the awareness of one's own feelings, motives, and desires.
1.3.8. NATURALIST intelligence is the ability to recognize patterns and differences among natural objects and life-forms.
1.4. Sternberg's Triarchic Theory
1.4.1. ENVIRONMENTAL CONTEXT
1.4.1.1. Adapting behavior to fit the environment
1.4.1.2. Adapting the environment to fit one's needs
1.4.1.3. Selecting an environment conducive to success
1.4.2. PRIOR EXPERIENCE
1.4.2.1. Dealing with a new situation by drawing on past experience
1.4.2.2. Dealing with a familiar situation quickly and efficiently
1.4.3. COGNITIVE PROCESSES
1.4.3.1. Interpreting new situations in useful ways
1.4.3.2. Sustaining concentration on a task
1.4.3.3. Separating important information from irrelevant details
1.4.3.4. Identifying effective problem-solving strategies
1.4.3.5. Finding relationships among seemingly different ideas
1.4.3.6. Making effective use of feedback
1.4.3.7. Applying other processes as well...
1.5. Distributed Intelligence
1.5.1. Thinking facilitated by physical objects and technology, social support, and concepts and symbols of one's culture.
2. QUESTIONS/CRITIQUES
2.1. Why is there so much emphasis on intelligence when theorists cannot even agree on the definition of intelligence?
2.2. According to recent research, which theory is the most valuable for teachers to use in the classroom?
2.3. How can we use the information we have now to help our students become more successful?
3. HOW CHILDREN ACQUIRE INTELLIGENCE
3.1. Socioeconomic Differences
3.1.1. family income
3.1.2. occupation
3.1.3. level of education
3.2. Gender Differences
3.2.1. male
3.2.2. female
3.3. Ethnic & Racial Differences
3.3.1. cultural bias
3.3.2. socioeconomic status
3.3.3. discriminatory practices
3.3.4. motivation