MARKETING CHANNELS AND SUPPLY CHAIN MANAGEMENT
by Azim Asyraf Asyraf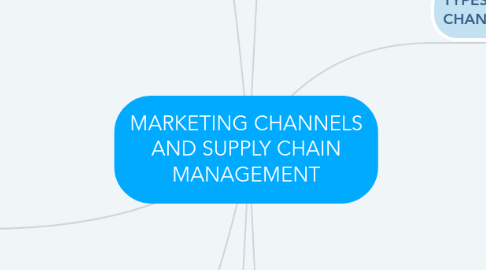 1. THE ROLE OF MARKETING CHANNELS IN MARKETING STRATEGY
1.1. They facilitate the exchange process by reducing the number of market place contacts necessary to make a sale.
1.2. Distributors adjust for discrepancies in the market's assortment of goods and services via a process known as sorting.
1.3. Involves standardizing exchange transactions by setting expectations for products, and it involves the transfer process itself.
1.4. To facilitate searches by both buyers and sellers.
2. TYPES OF MARKETING CHANNELS
2.1. Direct Selling
2.1.1. The simplest and shortest marketing channel is a direct channel. A direct channel carries goods directly from a producer to the business purchaser or ultimate user.
2.2. Channels using Marketing Intermediaries
2.2.1. 1. Producer to Wholesaler to Retailer to Consumer
2.2.2. 2. Producer to Wholesaler to Business User
2.2.3. 3. Producer to Agent to Wholesaler to Retailer to Consumer
2.2.4. 4. Producer to Agent to Wholesaler to Business User
2.2.5. 5. Producer to Agent to Business User
2.3. Dual Distrubution
2.3.1. Dual distribution refers to movement of products through more than one channel to reach the firm's target market.
2.4. Reverse Channels
2.4.1. While traditional concept of marketing channels involves the movement of goods and services from producer to consumer or business user, marketers should not ignore reverse channels.
3. CHANNEL STRATEGY DECISIONS
3.1. Selection of a Marketing Channel
3.1.1. 1. Market Factors - other market factors also affect channel choice, including the market's needs, its geographic location, and its average order size.
3.1.2. 2. Product Factors - product characteristics also guide the choice of a marketing channel selection.
3.1.3. 3. Organizational and Competitive Factors - companies with strong financial, management, and marketing resources feel less need for help from intermediaries.
3.2. Distribution Intensity
3.2.1. 1. Intensive Distribution - an intensive distribution strategy seeks to distribute a product through all available channel in a trade area.
3.2.2. 2. Selective Distribution - in another market coverage strategy, selective distribution, a firm chooses only a limited number of retailers in a market area to handle its line.
3.2.3. 3. Exclusive Distribution - when a producer grants exclusive right to a wholesaler or retailer to sell its products in a specific geographic region, it practices exclusive distribution.
4. CHANNEL MANAGEMENT AND LEADERSHIP
4.1. Channel Conflict
4.1.1. 1. Horizontal Conflict - sometimes results from disagreements among channel members at the same level, such as two or more wholesalers or two or more retailers, or among marketing intermediaries of the same type, such as two competing discount stores or several retail florists.
4.1.2. 2. Vertical Conflict - may result in frequent and severe conflict. Channel members at different levels find many reasons for disputes, as when retailers develop private brands to compete with producers' brands or when producers establish their own retail stores or create mail-order operations that compete with retailers.
4.2. Achieving Channel Cooperation
5. VERTICAL MARKETING SYSTEMS
5.1. Corporate and Administered Systems - when a single owner runs organisations at each stage of the marketing channel, it operates a corporate marketing system.
5.2. Contractual Systems - VMS that coordinates channel activities through formal agreements among participants.
5.2.1. 1. Wholesaler-Sponsored Voluntary Chain
5.2.2. 2. Retail Cooperative
5.2.3. 3. Franchise
6. LOGISTICS AND SUPPLY CHAIN MANAGEMENT
6.1. Radio Frequency Identification (RFID) - one tool that marketers are using to help manage logistics is radio frequency identification technology.
6.2. Enterprise Resource Planning (ERP) - software is an important aspect of logistics management and the supply chain. An enterprise resource planning system is an integrated software system that consolidates data from among the firm's units.
6.3. Logistical Cost Control - in additon to enhancing their products by providing value-added services to customers, many firms are focusing on logistics for another important reason: to cut cost.
7. PHYSICAL DISTRIBUTION
7.1. The Problem of Suboptimization- results when the managers of individual physical distribution functions attempt to minimize costs, but the impact of one task on the others leads to less than optimal results.
7.2. Customer-Service Standards - state the goals and define acceptable performance for the quality of service that a firm expects to deliver to its customers.
7.3. Transportation - typically adding 10 percent to the costs of a product, transportation and delivery expenses represent the largest category of logistics-related costs for most firms.
7.3.1. 1. Classes of carriers - common carriers, contract carriers, and private carriers.
7.3.2. 2. Major transportation modes - railroads, motor carriers, water carrier, pipelines, and air freight.
7.3.3. 3. Freight forwarders and supplemental carriers
7.3.4. 4. Intermodal coordination
7.4. Warehousing - a storage warehouse holds goods for moderate to long periods in an attempt to balance supply and demand for producers and purchasers.
7.4.1. 1. Automated warehouse technology
7.4.2. 2. Warehouse locations
7.5. Inventory Control Systems - captures a large share of a logistics manager's attention because companies need to maintain enough inventory to meet customer demand without incurring unneeded costs for carrying excess inventory.
7.6. Order Processing - like inventory control, order processing directly affect the firm's ability to meet its customers-service standard.
7.7. Protective Packaging and Materials Handling - logistics manager arranged and control activities for moving product within plants, warehouse, and transportation terminals, which together compose the materials handling system.