Silvermine 10/2 Brainstorm
by
John Rojas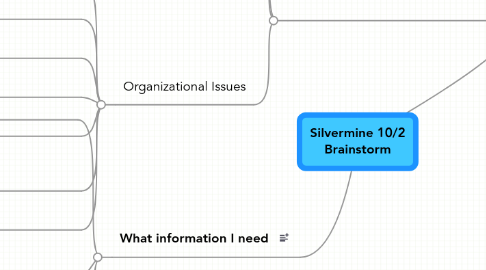 0.0
stars -
0
reviews range from
0
to
5
Silvermine 10/2 Brainstorm
What information I need
What types of information can we offer through evening workshops or some other means that would support parents in their efforts to help their children succeed?   Que tipo de información necesita usted como apoyo para que usted ayude a su hijo/a a tener éxito en la escuela, y en que forma prefiere recibir esa información?
Lack of Communication
All notices go home on Wednesday folder
Communication embedded in school district
Automated call-out message
Silvermine info line / hotline, Answering machine, In English and Spanish
School Newsletter, Increase readership, Show information about progress, Ideas for working with your child at home, Deliver on a specific day of week, Include content for children, Use Drawings, Include information about transportation, Announce Upcoming Events, Include stories about the school, General Information, Activities for Children, Children Movies, Museum, Circus, Activities for Parents
Our Students
Parents need consistent communication with all specialists
Tell me about my child's progress, Use telephone to reach parents whose children are having difficulties
Encourage students to engage parents, Read school material, Read to me, Help me with my homework
Support Reading and Learning
Family night activities, Fun & Appealing, Get children to motivate parents, Food, 6:30 pm, South Norwalk Location, Spooktacular, One day every week, Pizza Dinner, families can come and stay, Social Friday, give families something to do on Friday's after school, Community Building Activity
Parent Workshops
Reading Center, Sharing books, Recommended reading list, Summer, School Year, Books are read by good readers, Instructional for parents, Exciting for children, Books read in English and Spanish
Homework Support, Reading every day, Reading logs + incentives by PTO
Why it's hard to volunteer
The school and the PTO want and need parent volunteers to help bring success to some school programs or school events. What are the concerns/issues that keep you from actively participating in school events?     La escuela y el PTO necesitan ayuda de los padres, para tener éxito en algunos programas o eventos de la escuela. Cuales son las razones que lo impiden para participar como voluntario en las actividades de la escuela?
School needs, what are they?
I don't know how to help
What is the impact of my participation?
Build a general awareness of the educational community
Value of my participation
Lack of ownership of issues, Make everyone a PTO member and small dues
Organizational Issues
Babysitting, Use a separate room from meeting
Don't know the time commitment, Lead time for event commitment, Yearly, Steady Calendar of Events, Knowing the specific time commitment would help !, Time and Work limit my schedule, Volunteering opportunities occur at limited dates/times, Beautification Day is only one day in school year, PTO Meetings are on a night I cannot attend, Carry out a census to find out the best time
Getting the word out, Flyers in backpack, Mail directly to house, Emails, Calendars on website, School Directory via email + backpack, Room Parent job to call or contact their class., Word of mouth, Keep website up to date, Paid webmaster
Information Authorization, Separate card to be sent w/ emergency card to release name + personal info, Beginning of year packet
I don't have transportation, Help me network with others to find a ride, School Directory, Room Parents in my neighborhood, Encourage male parents to connect and build motivation
Lack of organization within Spanish speaking community, Carry out discussions in Spanish, Share learnings and outcomes with entire community
Language, PTO Meetings are mainly in English