Silvermine 10/2 Brainstorm
by
John Rojas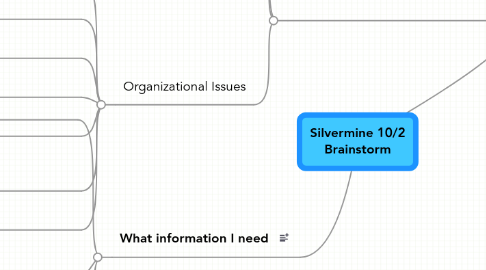 0.0
stars -
0
reviews range from
0
to
5
Silvermine 10/2 Brainstorm
What information I need
What types of information can we offer through evening workshops or some other means that would support parents in their efforts to help their children succeed?   Que tipo de información necesita usted como apoyo para que usted ayude a su hijo/a a tener éxito en la escuela, y en que forma prefiere recibir esa información?
Lack of Communication
Our Students
Support Reading and Learning
Why it's hard to volunteer
The school and the PTO want and need parent volunteers to help bring success to some school programs or school events. What are the concerns/issues that keep you from actively participating in school events?     La escuela y el PTO necesitan ayuda de los padres, para tener éxito en algunos programas o eventos de la escuela. Cuales son las razones que lo impiden para participar como voluntario en las actividades de la escuela?
School needs, what are they?
Value of my participation
Organizational Issues