Union Owl's "Nesting" Hub
by TAMMIE ALLEN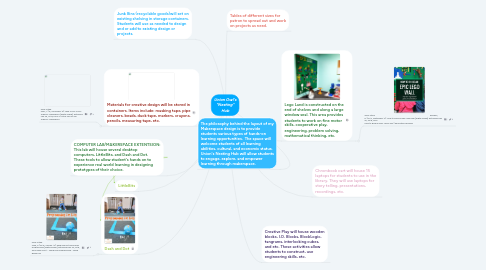 1. Lego Land is constructed on the end of shelves and along a large window seal. This area provides students to work on fine motor skills, cooperative play, engineering, problem solving, mathematical thinking, etc.
1.1. Work Cited: Rendina, D. (2014, September 12). How to build an epic Lego wall [Digital image]. Retrieved May 26, 2018, from How to Build an Epic LEGO Wall | Renovated Learning
2. Tables of different sizes for patron to spread out and work on projects as need.
3. Dash and Dot
3.1. Work Citied Tripp, K. (2016, January 14). Dash and Dot Teach Kids Programming [Digital image]. Retrieved May 26, 2018, from Dash & Dot ~ Teach Kids Programming - Teach Beside Me
4. COMPUTER LAB/MAKERSPACE EXTENTSION: This lab will house several desktop computers, LittleBits, and Dash and Dot. These tools to allow student's hands on to experience real world learning in designing prototypes of their choice.
5. LittleBits
6. Junk Bins (recyclable goods)will set on existing shelving in storage containers. Students will use as needed to design and or add to existing design or projects.
7. Materials for creative design will be stored in containers. Items include: masking tape, pipe cleaners, beads, duck tape, markers, crayons, pencils, measuring tape, etc.
7.1. Work Citied Own, L. (16, November 16). Take a Tour of Our School's Makerspace [Digital image]. Retrieved May 26, 2018, from A Virtual Tour of Our School's Makerspace
8. Creative Play will house wooden blocks, I.O. Blocks, BlockLogic, tangrams, interlocking cubes, and etc. These activities allow students to construct, use engineering skills, etc.
9. Chrombook cart will house 15 laptops for students to use in the library. They will use laptops for story telling, presentations, recordings, etc.
10. The philosophy behind the layout of my Makerspace design is to provide students various types of hands-on learning opportunities. The space will welcome students of all learning abilities, cultural, and economic status. Union's Nesting Hub will allow students to engage, explore, and empower learning through makerspace.