SYSTEMIC APPROACH IN GRAMMAR STUDIES
by Supreme #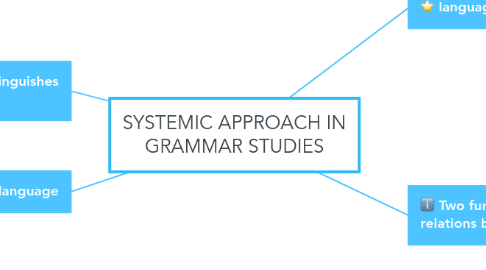 1. Systemic approach distinguishes two language planes
1.1. the plane of content
1.1.1. comprises all the meaningful, semantic elements contained in the language
1.2. the plane of expression
1.2.1. comprises all the material, formal units of the language
2. The units of language
2.1. segmental
2.1.1. form a hierarchy of levels.
2.2. supra-segmental.
2.2.1. Textual units
3. Two fundamental types of relations between lingual units
3.1. subsystems of the language
3.1.1. The phonetical system
3.1.2. The lexical system
3.1.3. The grammatical system
3.1.3.1. morphology
3.1.3.2. syntax
3.2. paradigmatic
3.2.1. The other type of relations, opposed to syntagmatic
3.3. syntagmatic
4. language
4.1. is a system of specific interconnected and interdependent lingual signs united by their common function of forming, storing and exchanging ideas in the process of human intercourse.
4.2. GoThe originator of the systemic approach in linguistics is considered to be a Swiss scholar Ferdinand de Saussure. als