SIMPLE PAST TENSE
by Jenny Garzón Mejía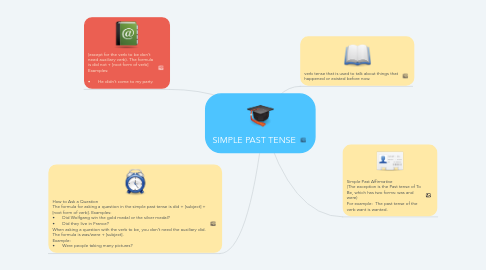 1. verb tense that is used to talk about things that happened or existed before now.
2. Simple Past Affirmative (The exception is the Past tense of To Be, which has two forms: was and were) For example: The past tense of the verb want is wanted.
3. (except for the verb to be don't need auxiliary verb). The formula is did not + [root form of verb] Examples: • He didn't come to my party.
4. How to Ask a Question The formula for asking a question in the simple past tense is did + [subject] + [root form of verb]. Examples: • Did Wolfgang win the gold medal or the silver medal? • Did they live in France? When asking a question with the verb to be, you don't need the auxiliary did. The formula is was/were + [subject]. Example: • Were people taking many pictures?