Reinventing School Challenge
by
Brendan O'Keefe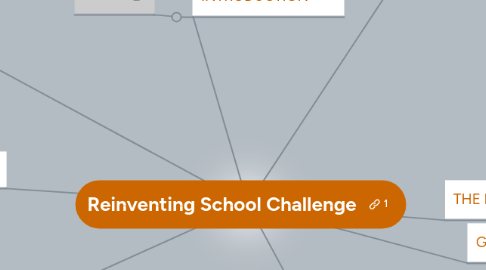 0.0
stars - reviews range from
0
to
5
Register a team
Download the app - Android/iPhone
Create an edmodo account
Edmodo Tutorial
Create a Skype for the Classroom account
Create a Socrative/Poll Everywhere account
Socrative introduction video
Create a Prezi account
What is Prezi? - The official intro video
Research the Partnership for 21st Century Skills Framework
Watch inspirational video playlist
Form your team(s)
Design Thinking for Educators
Why Design Thinking?
INTRODUCTION
Mission: Encourage life-long learning, promote alternative learning environments and equip you with 21st Century skills. The Reinventing School Challenge is a project that uses design, collaboration, technology, play and social media to engage and empower young people effect positive change in their school community. We invite students, teachers, subject matter experts such as designers, parents, carers, architects, industrial designers, interactive designers, interior designers, and gardeners all to to collaborate. Form or join a team and ideate, design, remix and prototype new possibilities to reinvent the school experience. The first round of the challenge begins Sept 12 and submissions close Nov 7. most promising ideas/examples will be posted on the Potentiality Showcase website on Nov 28 2011. You can register a team now and We'll give you your very own page here on this site.Reinventing school as an open design challenge This is a program where play and design education meets social change. We're inspiring tomorrow's change agents and empowering them with the skills and tools to effect positive change in their communities. It all starts by engaging the creative, physical, and technical skills that have been identified as necessary to both adapt and thrive in our complex and ever changing world. Inspired by people such as Sir Ken Robinson, Richard Gerver, Marc Prensky, Laura Seargeant Richardson, Chris Lehmann and Jane McGonigal, we're encouraging young Australians to embrace the role of designer. We're encouraging them to use the design tools they already love to use online and off, collaborate globally and use social media to deliver the message, and connect with their communities. We are also following the four pillars of play, open environments, flexible tools, modifiable rules and superpowers.What is the purpose, what are we trying to accomplish? The purpose is to ignite conversation, bring about new connections, impart new skills and most of all show what works and display possibilities. Think of it as a possibility showcase for the greater good. We're creating and distributing here under a Creative Commons Attribution-NonCommercial-ShareAlike 3.0 licence. This challenge has been set up to provide a space to freely share ideas and examples that are transforming and can transform learning environments. It is not our intention to own anyone's intellectual property, take ideas to market or to fund or become partners in ideas that may have strong commercial potential. If you are super concerned about 3rd party infringement, then please don't participate here. We are looking for new perspectives, new ideas, shared passion and reignited purpose to make this a success. The program will always be a work in progress. Everyone is welcome to participate and support this Reinventing School project. You will learn some new things, meet new people and enjoy the process whilst having loads of fun.
Media Kit
What is the purpose, what are we trying to accomplish? In his best selling book Drive, Dan Pink talks of the three elements of true motivation—autonomy, mastery, and purpose. The challenge is designed to give you all of the key elements needed to drive you to success. What's the question – Tim Hurson wrote "In my experience, one of the most common reasons that programs, products, and change initiatives don't work is that the wrong question has been asked". "We need to practice what I call staying in the question, as opposed to jumping to the answer, so we can keep our minds open to these possibilities". We are looking for new perspectives, new ideas, shared passion and reignited purpose to make this a success. We want you to be challenged, learn new things with new people and have fun. It takes a community to raise a school. Together, we can achieve this. In his book Creating tomorrow's Schools Today, Richard Gerver talks about breaking down the invisible walls we often have created around our schools and inviting community in to co-develop and facilitate learning in the lives of your children.Question everything Take time to design beautiful questions. The very wise Albert Einstein once said, "If I had an hour to solve a problem and my life depended on the solution, I would spend the first 55 minutes determining the proper question to ask, for once I know the proper question, I could solve the problem in less than five minutes." Dive deep into your imagination. Connect and collaborate close by, and far and wide.  These challenges come as a series of questions, with the final one a question that seeks movement. Keep in mind that your ability to generate catalytic questions will assist you greatly in your quest to find great ideas and design new things. Hopefully these starting questions will facilitate meaningful change or innovation.The process 3 questions to inspire you to deliver What inspires you to learn? What learning innovation have you used to teach or learn? How might we design the classroom of the future?What do we want your team to present? Examples of what works now. Engaging examples of learning opportunities Examples of youth lead, blended, project and inquiry based learning Ideas that involve community outreach and social inclusion Ideas that can be plunged into within the schools system as it is now Ideas that are complementary to the current school system Ideas that work as an alternative to, or outside the current school system Game changing ideas that  redefine it allFinal presentation You post your team presentation(s) via the website here on your own page which we give you access to via logon. Present as video, photo story, slideshare presentation, comic, map, 3D design, or whatever takes your fancy. Highlight your empathy finding. Share needs and insights The synthesis of your ideas and your prototypes Show real life examples of what works, classroom flips, lesson plans, games or things we haven't imagined yetJudging criteria Ability to reignite students and teacher passion for learning and teaching Empowers young people with civic, digital citizenship and media literacy skills Impact it has on fostering creativity in young people Opportunity to be used beyond the classroom Ease of adoptability for educators Impact it has on fostering leadership in students and teachers Potential to really innovate in the current education system Feasibility to be used within the realm of existing technology
LIMITED SEATS GOOGLE HANGOUTS
  Coming soon. Meanwhile check our Brian's weekly EdHangout online here.
Many of these great people will be joining us for a chat over the Challenge period. Stay tuned for the times and dates. Richard Gerver – Educationalist, speaker, author, and media commentator.@RichardGerver Béa Beste – Social impact entrepreneur, Playducation. @playDUcation Tim Hurson – Author, keynote speaker, facilitator and creator of the Productive Thinking Method. @Tim_Hurson Peter Lloyd – Songwriter, author, ghostwriter, copywriter, content provider. Founder of Go Create. @goCreatedotcom Dr Melis Senova – Co-founder and director of Huddle design @Avones David Bill – Director of Educational Technology at the Urban School of San Francisco. @dcinc66 Robert Alan Black, Ph.D., CSP – Creative Thinking Consultant, Creative Problem Solver, Idea Generator, Creativity speaker and consultant Zaid Ali Alsagoff – E-learning Manager and Fellow of Centre for Medical Education, IMU (International Medical University) Malaysia. @zaidlearn Ehon Chan – Researcher, strategist, thinker and do-er. @ehon Kes Sampanthar – Director of Media Strategy at Cynergy and inventor of the ThinkCube and @kessampanthar Hamish Richardson – Student and passionate youth empowerment advocate
Tools and Resources Udemy - Main Challenge Learning Materials Edmodo Framework for 21st Century Learning Skype for Educators QR Stuff WizIQ Mindmeister Reinventing School Android App Reinventing School iPhone App Animal CrackersMore Best Web 2.0 Tools Born to Learn d school ED social media Frank Team Gamestorming ideas@play community voting platform IDEO Inventium Keynotopia Play for Life Playducation Project Interaction Prototype Design Camp Rocket Dog Bulldozer Service Design Tools Social Actions Startl Sydney Centre for Innovation in Learning The Australian Centre for Social Innovation The Super Powers of Play ThinkCube WizIQ Youth Tree Zaid Learn – Free learning Tools
Empathy - Step 1
Futurecast/Visualise - Step 2
What's going on/Needfinding - Step 3
Point of View/Define - Step 4
Ideate/Brainstorm - Step 5
Prototype & Test - Step 6
Present/Reflect/Share - Step 7