Observation Techniques
by
Nicole MacDonald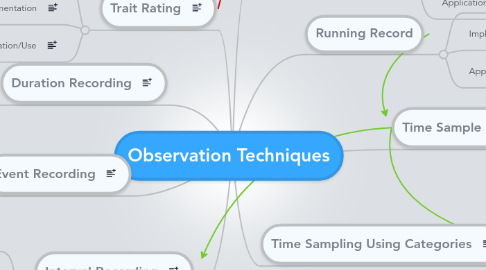 0.0
stars - reviews range from
0
to
5
Observation Techniques
Diary Description
Also referred to as Anecdotal Recording
Description
This observation technique is an informal account of an aspect/s of one child's development. It is usually conducted on an area that is of interest to the observer and quite often on an irregular basis, as such it can be an inadequate representation of a child's development.
Implementation
A common example of this type of technique is the 'baby milestone' books, where by a caregiver records milestones as they occur, eg: first steps or first words. It is often supported by photographs.  Annual pictures in the family photo album would be a pictorial representation of a Diary Description. This approach can also be seen in the classroom, for example a teacher jotting down notes on how well a 5 year old is settling down, perhaps paying attention to how quickly they settle after they are left, or grasping classroom routines.
Application/Use
Recordings of this nature are often biased and represent traits or developmental aspects of interest to the observer, subsequently making them subjective and inadequate as a sound description of a child's development. However despite this, the Diary Technique does have its uses and can often be a springboard for more systematic observations.  Through the recorded impressions, patterns may begin to emerge and be noticed, prompting further more analytical observation.  
Running Record
Description
This technique carefully builds up a description of what a child does over a period of time by looking at what he/she does from moment to moment in a particular setting. In order to be effective, it requires the observer to make an accurate description of the environment as well as the action.
Implementation
When conducting a running record observation the observer attempts to record, either with a tape recorder or on paper, everything that happens pertaining to the identified object of observation. This can be difficult to undertake for prolonged periods of time, usually betwen 15-20 minutes is all that can be sustained.  However a useful record can be built over time by completing a number of observations.
Application/Use
Running records can be extremely valuable technique for opening up a wide range of behaviours or events to observe. A disadvantage to this technique is that in an attempt to try and record the abundance of information, observers can become selective about what they record, subsequently distorting the picture.
Time Sample
Of both individuals or the use of an activity
Description
This is a variation of the running record technique.  A timer device alerts the observer and only action or activity occurring at that time is recorded after a set period of time the observer is alerted again and once again only information pertaining that that 'sample of time' is recorded. It can be likened to taking a single frame from a movie to carefully analyse, once sufficient samples have been taken, the observer is able to accurately build a record.
Implementation
This technique is simple to implement and can be conducted with the assistance of a stop watch or wrist watch with a seconds hand. Sampling times enables the observer to build an accurate record of activity.  
Application/Use
This technique is effective in recording behaviours of an individual child as well as enabling a record to be made of activity, for example at a reading corner. This information can then be considered to enable an accurate reflection to be based and acted on accordingly.    
Event Recording
An event focus
Description
This technique focuses on an event, for example the occurrence of a particular behaviour. Unlike Interval recording the timing between the event occurring is unimportant.
Implementation
Events being observed using this technique could be recorded using marks on a piece of paper, 'golf-counter or 'knitting counter', an electronic events recorder or by simply moving pebbles or buttons from one pocket/container to another.
Application/Use
This technique could be as simple as watching children interact and recording the number of times a behaviour/event occurs, for example physical contact.
Interval Recording
Further modification of the Time Sampling technique.
Description
This technique combines the behaviour sampling required for systematic recording and the narrow focus on a stipulated behaviours for detailed analysis. It involves marking on a table if the required/specified behaviour is present.
Implementation
With this technique observation occurs for a set period of time (10 seconds is common) then an interval occurs while notes are made prior to continuing for a further period of time.  
Application/Use
This technique although still possible, is difficult without specialised equipment, it is still one that should be carefully considered as it combines behaviour sampling to allow for systematic recording and the narrow focus to obtain detailed analysis.  
Time Sampling Using Categories
Similar in nature to Time Sample however has two key differences.
Description
As with Time Sample, snap shots are taken in order to build an accurate and complete picture.  However recording is reduced to noting a simple code or ticking the appropriate box. It looks at only if the predetermined behaviour is present or not and as such the category for the observable behaviour must be clearly and carefully defined.
Implementation
This technique, after the difficult task of clearly defining the actual behaviour being observed, is able to be utilised with several children simultaneously.
Application/Use
This technique is widely used when completing studies relating to behaviour analysis. It is able to provide a systematic record of the behaviour frequency. It is used in both baseline surveys as well as during treatment.
Duration Recording
How long a behaviour lasts
Description
This technique involves using observing and recording to establish how long a particular behaviour lasts. The observer makes a note of how long a particular behaviour occurs, for example how long students spend reading in the reading corner or playing at an activity.  
Implementaton
Although the only item that is required to under take this technique is a stop watch, more detailed and valuable information can gleamed by using a prepared sheet.
Application/Use
This activity can be used to record how long a child spends using an activity, it can also be used to verify and investigate statements such as "Tom is always fighting other children" or "Jane is always wandering around lost"
Trait Rating
As with Diary Description this technique is not as precise as the others, but still has a place
Description
In order to be effective this technique relies on the observer's careful unbiased recording and not on a 'hunch'
Implementation
In this technique a child is studied, usually for a set period of time, and then rated on a given trait for example a 3 in social on a 5 point scale.
Application/Use
This technique is often open to interpretation and as such can prove unreliable, to be of value it needs to be undertaken in conjunction with and to supplement other techniques