THE GERUND AND INFINITIVE
by orleanys velasquez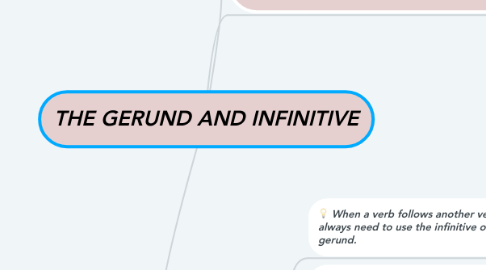 1. GERUND is formed with " ING"
1.1. some verbs that govern the GERUND: stop,enjoy,imagine, love ,hate ...
2. INFINITIVE is formed with the preposition "TO"
2.1. some verbs that govern the INFINITIVE :promise , forget ,refuse ,dare ,remind...
3. GRAMATICAL RULES
3.1. When a verb follows another verb, we always need to use the infinitive or the gerund.
3.1.1. He began to doubt himself. / He began doubting himself.
3.2. We can use the gerund or the infinitive as an object, subject or complement.
3.2.1. -I like cooking. / I like to cook. -Drinking and driving is dangerous.
3.3. After prepositions we can only use the gerund.
3.3.1. I always read before going to bed.
3.4. With some verbs, when we use the gerund and the infinitive, the meaning changes.
3.4.1. -Gerund: I forgot writing that email. -Infinitive: I forgot to write that email.