Maven/Subversion
by
Achim Abeling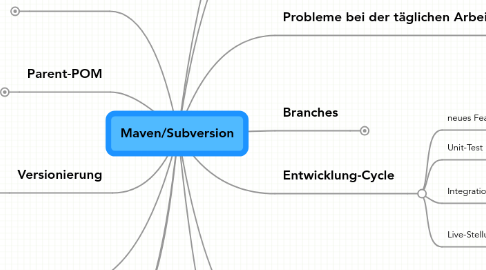 0.0
stars -
0
reviews range from
0
to
5
Maven/Subversion
Profile
nach Axis
Axis 1.1
Axis 1.3
Axis 2 ?
Archetype
für freenet-Projekte
für OMS-Projekte
für Tapestry-Projekte
Vererbung
Parent-POM
Definition der Profile
allg. Dependencies
Def. von Versionsnummern
allg. Plugin-Einstellungen
allg. Extensions
Versionierung
Versionsnummer von Branches
muss sich in Branches unterscheiden
major.minor.patch
Definition von http://docs.codehaus.org/display/GEOT/5.+9+Versioning, major, is incremented to indicate that a module has lost full compatibility to earlier versions. So you can safely upgrade to later versions of a module so long as the major version has not changed., minor, is incremented whenever new features are added. Modules are forward compatible across minor versions, but usually not backward compatible, patch, is for bug fixes. It is used to indicate fixes in bugs only. No new features were made and full compatibility is preserved.
Release-Management
Verwendung von Snapshots
Assemblies
Meta-Projekte
WorkflowProcessor
Tomcat-Umgebung
Probleme bei der täglichen Arbeit
Herstellung einer Entwicklungsumgebung
viele voneinander abhängige Projekte
manchmal ist Update in abhängigen Projekten notwendig, damit eigenes Projekt übersetzt
Bereitstellung von Testversionen
fehlende Abhängigkeiten beim Deployment
Bugfixes für Production Release
geht mit Release-Tags im Subversion
Bereitstellung von Features für Test/Produktionsumgebungen
Features werden separat getestet und müssen dann auch separat live genommen werden können, pro Feature ein Branch, Merge-Stress
Branches
Flying Fish
svnmerge
Entwicklung-Cycle
neues Feature implementieren
Unit-Test
danach Bugfixing
Integrationstest
muss unabhängig von anderen neuen Features sein
danach Bugfixing
Live-Stellung
danach Bugfixing
Vorschlag Entwicklungs-Cycle
Entwicklung eines neuen Features auf Branch
Maven-Versionsnummer enthält Branch?
regelmäßiger Merge von Trunk
Bereitstellung eines Snapshot-Release für Integrationstest
Nach Freigabe durch QS Merge in Trunk, Branch schließen, Release erstellen (minor++,patch=0)
Live-Stellung mit Production-Release
Bugfixing von Production-Release
auf Release-Branch entwickeln, ändern auf SNAPSHOT
Snapshot-Release für Integrationstest bereitstellen
nach Freigabe durch QS Release erstellen (patch++)
Qualitätssicherung
Continuum