David Johnson, Jr
by David Johnson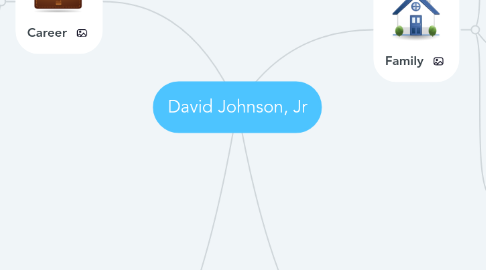 1. Family
1.1. Mianda (spouse)
1.1.1. Married: December 23, 1999; 18.5 years
1.1.2. Met at Cub Scout Day Camp where she was dating one my Lifeguards, I was head guard. Oops :)
1.1.3. She is an LPN and team leader of the 2nd largest Fracture Liaison Service (Osteoporosis) Clinic in the Country.
1.2. David, III
1.2.1. My oldest son. He's 14.
1.2.2. He starts high school next week at Mt Tabor HS, here in Winston Salem, NC. (I'm not okay with this at all!)
1.2.3. He's my running buddy. We have run in more than 30 5K races all over NC and SC in the last 2.5 years.
1.2.4. He is thinking about going to school to be a Vet Tech or Zookeeper. Either way something to do with animals.
1.3. Zane
1.3.1. My younger son. He's almost 13 (3 more weeks).
1.3.2. He will be starting 7th grade this fall.
1.3.3. He is also a huge animal lover, but he is more my scientist. I"m not sure what he wants to do, But he already goes to a magnet school for STEM.
2. Education
2.1. Mexico Academy and Central Schools
2.1.1. My High School, in Mexico, NY.
2.2. Nazareth College of Rochester
2.2.1. BS in Business Administration with a Minor in Accounting
2.2.2. Swam Division III for all 4 years
2.3. Onondaga Community College
2.3.1. Associates of Science in Nursing
2.3.1.1. Decided that business wasn't for me.
2.4. UNC Charlotte
2.4.1. Bachelors of Science in Nursing
2.4.1.1. Federal recommedations that RN's should have BSN. Plus I always seem to be going to school.
2.5. Johns Hopkins
2.5.1. Masters of Healthcare Administration
2.5.1.1. Currently taking 2nd class
3. Career
3.1. Boy Scouts of America
3.1.1. Worked as a Paid District Executive. (1st job out of college). Thought it would be great. It wasn't.
3.2. Transition period
3.2.1. Worked odd jobs like security guard and insurance saleman.
3.3. Nursing
3.3.1. Started as an LPN at a small Upstate NY hospital.
3.3.2. Moved to a Level 1 trauma center as an RN and worked on a medical-surgical floor for a year.
3.3.3. Worked on the Burn trauma ICU for 4 years at Upstate Medical Center in NY.
3.3.4. Moved to North Carolina and worked Burn trauma there for an additional 2 years.
3.4. Organ Donation
3.4.1. Work currently as an Organ Donation Coordinator.
3.4.1.1. Help precept the next generation of organ donation coordinators.
3.4.1.2. Have helped facilitate over 150 donors and helped place nearly 500 organs into needed recipients across the Southeast, Northeast and Midwestern parts of the US.
4. Things I do for fun.
4.1. Running
4.1.1. In the last 2.5 years I have completed 30 5K races.
4.1.2. I've ran 2 10K races.
4.1.3. Finished 1 out of 2 half marathons. I am currently training for my next one now. It's in November.
4.2. Swimming
4.2.1. I swam in HS and earned 3 varsity letters.
4.2.2. Swam all four years of college on a DIvision III team.
4.2.3. Competed in the NYS Empire State Games and won multiple medals.
4.3. Going to Ikea
4.3.1. Okay, I don't really enjoy this one. But my wife does, which means I do. :)
4.4. Road Trips
4.4.1. I love to travel to new places and learn new things.