Micro Economics ECON3
by
Finlay Curran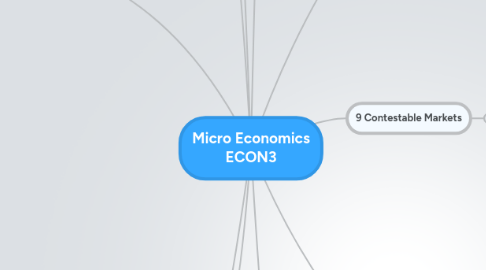 0.0
stars - reviews range from
0
to
5
Micro Economics ECON3
2 Profit Maximisation
MC = MR
Definitions
Role of profit
Is profit really maximised?
3 Perfect Competition
What is it?/ What is needed for it?
Definitions
The real world
4 Efficiency, Consumer & Producer Surplus
Definitions
Static efficiency
Dynamic efficiency
5 Concentrated Markets
Concentration ratio
Internal growth
External growth
6 Price Discrimination
What is needed for it to be possible?
First degree
Second degree
Third degree
1 Costs & Revenues
Costs
Revenues
Economies of scale
Law of Diminishing returns
9 Contestable Markets
Definitions
Effects
What helps create contestablility?
10 Technology and market structure
Production
Consumption
Efficiency
Increase in competition or monopoly?
7 Monopoly
Definitions
Effects of monopoly
Efficiency
8 Oligopoly
Definitions
Effects
The magic number 5
Kinked demand curve