7 Functions of Marekting for Adidas
by Lama Shehayber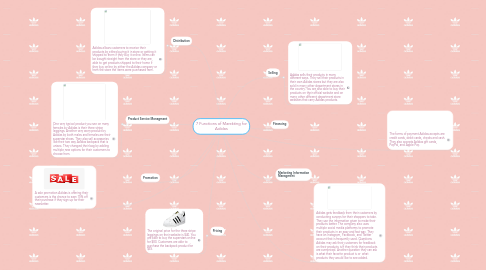 1. The forms of payment Adidas accepts are credit cards, debit cards, checks and cash. They also accepts Adidas gift cards, PayPal, and Apple Pay.
2. A sale promotion Adidas is offering their customers is the chance to earn 15% off their purchase if they sign up for their newsletter.
3. Adidas gets feedback from their customers by conducting surveys for their shoppers to take. They use the information given to make their products better. The company also uses multiple social media platforms to promote their products in an easy and fast way. They have an Instagram, Facebook, and Twitter account that is frequently used. Questions Adidas may ask their customers for feedback on their products is ff they think their products are overpriced. Another question they can ask is what their favorite product is or what products they would like to see added.
4. Selling
4.1. Adidas sells their products in many different ways. They sell their products in their own Adidas stores but they are also sold in many other department stores in the country. You are also able to buy their products on their official website and on many other different department store websites that carry Adidas products.
5. Distribution
5.1. Adidas allows customers to receive their products by either buying it in store or getting it shipped to them if they buy it online. Items can be bought straight from the store or they are able to get products shipped to their home if they buy online by either the Adidas company or from the store the items were purchased from.
6. Financing
7. Product Service Managment
7.1. One very typical product you see on many females by Adidas is their three stripe leggings. Another very worn product by Adidas by both males and females are their superstar shoes. They also sell accessories like their two way Adidas backpack that is unisex. They changed their bag by adding multiple new options for their customers to choose from.
8. Promotion
9. Marketing Information Managment
10. Pricing
10.1. The original price for the three stripe leggings on their website is $40. You are able to buy the superstars online for $80. Customers are able to purchase the backpack product for $35.