7 Functions of Marketing: Target
by Sara Svetich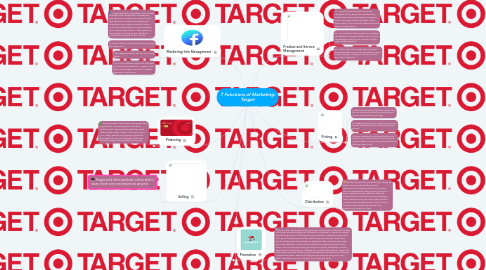 1. Product and Service Management
1.1. 1) A Target brand item that has been changed is their Boots and Barkley dog beds. These items have been changed to have a stronger hold so that after it has been used, it won't start to deteriorate and sag in certain places.
1.2. 2) A second item that Target has is Heyday cell phones cases and accessories. This a is something to add to your phone for style, color, and protection!
1.3. 3) Another item that Target sells are Room Essentials bath, hand, and face towels. These range through a variety of colors to match any home bathroom.
2. Distribution
2.1. Guests receive their products from Target by either coming into the store fronts themselves or ordering online and having the items shipped to their home by truck or by air. Guests can also get their items by pulling the car up to the store and having a team member bring the items pout to them. Target is also associated with "Shipt" which has items delivered to their home by a person who shops for them.
3. Marketing-Info Management
3.1. Target gets their information from guests through social media such as Instagram and Facebook. People can comment and get ideas form things that Target posts. Target also has customer support online and instore where they can gain feedback from anyone at any time. A few questions that Target could ask to gain feedback directly from a guest would include:
3.2. 1) Do you believe that you get what you pay for and more?
3.3. 2) Do these products last you for a long time?
3.4. 3) Are you satisfied every time with your purchase/purchases from Target? If not, how could Target improve for a better experience next time?
4. Financing
4.1. Target accepts many forms of payment from a guest who is purchasing from the store and/or online. Payments accepted are debit cards, credit cards, checks, cash, EBT/ SNAP, WIC cards, general use anywhere giftcards, store giftcards and merchandise cards, and lastly the Target REDcard debit and credit.
5. Selling
5.1. Target sells their products online and in store, both very convenient to anyone.
6. Pricing
6.1. 1) Boots and Barkley dog beds range from $39.99 to $49.99 based on what size you choose that best fits your dog.
6.2. 2) Heyday phone cases range from $9.99 to $19.99 based on the size and type of your phone.
6.3. 3) Room Essentials bath towels are $3.99 and have an offer to save an extra 15% at checkout that is automatically applied when looking at your cart.
7. Promotion
7.1. One really neat thing that Target has to offer to promote their business is through something they call Cartwheel. Cartwheel is inside the Target app that a guest can download for free on their smartphones app store. As a guest is walking around the store, they scan the bar code of the products they will be purchasing to get extra offers and savings! There are many different coupons for hundreds of products throughout the store. You can also get a free gift card or to just for spending a certain amount on a certain group of things like household products. Target also offers their REDcard that saves you an additional 5% when you checkout in store and online. REDcards also give you free shipping and many other exclusions you can only get if you have the card!