7 Functions of Marketing Vans
by Ashley Canny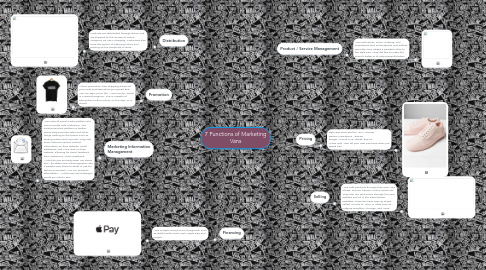 1. Selling
1.1. Vans sells products through their own Vans Stores, Zumiez, Pacsun, Kohl's, Dicks, etc. They also are sold online through the vans website and all of the listed stores' websites. They also have pop-up shops called "House of Vans" in cities such as Calgary, Brooklyn, Chicago, and more.
1.1.1. .
2. Product / Service Management
2.1. Vans sells shoes, socks, clothing, and accessories such as backpacks and wallets. Recently, vans added a padded collar to the style #95. They did this to make the shoe fit better & to help prevent blisters.
2.1.1. .
3. Pricing
3.1. Style #95 shoe aka the "era": $50.00 Deana III Backpack : $42,00 Ranger Anorak MTE Jacket: $69.50 Active sale : $20 off your next purchase when you spend $65
3.1.1. .
4. Distribution
4.1. Products are distributed through stores and are shipped to the houses of online shoppers via USPS Shipping. Customers also have the option of ordering online and picking up the product(s) in-store.
4.1.1. .
5. Promotion
5.1. Active promotion: free shipping & $20 off your next purchase when you spend $65. You can sign up for the "Vans Family" which is a reward program. This is capable of being done either online, on the app, or in stores.
5.1.1. .
6. Marketing Information Managament
6.1. Vans uses all social media platforms to communicate with customers. The most prominent platform is twitter, where they promote sales and other things relating to the brand, such as skating videos and concerts. They also have customer service contact information on their website, email addresses, and a live chat on their website, allowing for direct feedback from customers. Three questions: "What do you primarily wear our shoes for?" (to determine a demographic, aka if people wear them to skate or just for fashion purposes) "Are our products affordable?" "What new colors/designs would you like to see"
6.1.1. .
7. Financing
7.1. Vans accepts many forms of payment, such as debit/credit cards, cash, apple pay, and paypal.
7.1.1. .