7 Functions of Marketing for Taco Bell
by Emma Rosales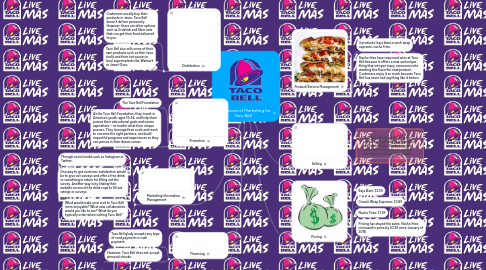 1. Product/Service Management
1.1. 3 products: baja blast,crunch wrap supreme, nacho fries.
1.2. Nacho fries have improved sales at Taco Bell because it offers a new and unique thing that intrigue many consumers into wanting this flavorful, new product. Customers enjoy it so much because Taco Bell has never had anything like it before.
2. Pricing
2.1. Baja Blast: $2.59
2.2. Crunch Wrap Supreme: $3.89
2.3. Nacho Fries: $1.29
2.4. Pricing has stayed the same. Nacho fries increased in price by $0.29 since January of 2018.
3. Distribution
3.1. Customers usually buy their products in-store. Taco Bell doesn't deliver personally. However, there are other options such as Grubhub and Uber eats that can get their food delivered to you.
3.2. Taco Bell also sells some of their own products such as their taco shells and their hot sauces in local supermarkets like Walmart or Jewel-Osco.
4. Promotion
4.1. The Taco Bell Foundation
4.2. At the Taco Bell Foundation, they invest in America's youth, ages 16-24, and help them pursue their educational goals and career aspirations – no matter what their unique passion. They leverage their scale and reach to convene the right partners, and build impactful programs and experiences so they can pursue in their dream career.
5. Marketing Information Management
5.1. Through social media such as Instagram or Twitter.
5.2. One way to get customer satisfaction would be to give out surveys and offer a free drink or something in return for filling out the survey. Another way is by linking their website on one of the drink cups to fill out ratings or surveys.
5.3. What would make your visit to Taco Bell more enjoyable? What new collaboration would you like to see? What do you typically order when visiting Taco Bell?
6. Selling
6.1. Taco Bell sells its products in the restaurant itself and very few other options in stores. Customers can order their food online to pickup from their local Taco Bell as well.
7. Financing
7.1. Taco Bell glady accepts any type of card payment or cash payment.
7.2. However, Taco Bell does not accept personal checks.