7 Functions of Marketing for H&M
by Alexandria Mleczko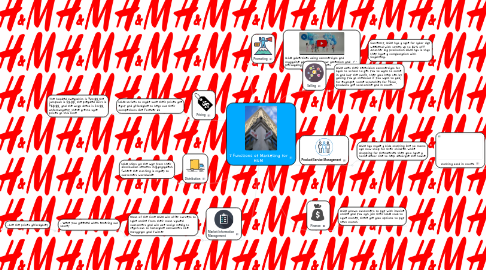 1. Selling
1.1. H&M uses their television commercials for back to school to get you to want to come in and buy the outfit, they also help sell by asking you at checkout if you want to add, for example, some scrunchies for $3.00, products are sold online and in store.
2. Product/Service Management
2.1. H&M has made a kids clothing line so moms can now shop for their children while shopping for themselves they also have a home decor line to help decorate the house
2.1.1. clothing sold in stores
2.1.1.1. H&M's cardigans used to be very thin, now with improvements using cotton and viscose the cardigans are now comfy and cozy
3. Promoting
3.1. H&M advertises using commercials and magazine ads capturing your attention and persuading you to visit stores
3.1.1. Currently, H&M has a sale for labor day weekend with styles up to 60% off! Another big promotion H&M has is that they have a collaboration with Coachella.
4. Pricing
4.1. H&M strives to make sure their prices are easy and affordable to beat out their competitors like Forever 21
4.1.1. The hooded sweatshirt is $24.99,the jumpsuit is 59.99, the pleaded skirt is $69.99, and the wrap dress is 34.99, unfortunately, there are no sale prices at this time
5. Distribution
5.1. H&M ships all the way from their distribution centers in Bangladesh (where the clothing is made) to customers worldwide
6. Finance
6.1. H&M allows customers to pay with invoice online and you can join their H&M club to save money, there are also options to pay next month
7. Market Information Management
7.1. Most of the time H&M will offer surveys to take online from their most valued customers and will use social media to reach out to honorable consumers like Instagram and Twitter
7.1.1. - Were you greeted when entering our store?
7.1.1.1. -Are the prices affordable?
7.1.1.1.1. -Did you have any trouble finding anything?