7 functions of Pink
by Arianna LenskiPannarale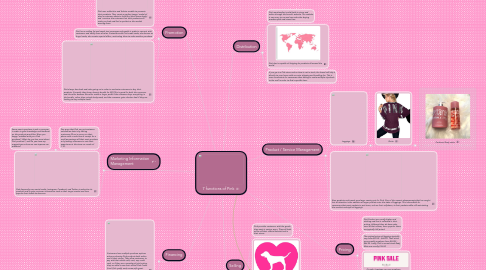 1. Financing
1.1. Customers have multiple purchase options when purchasing Pink products both online and in their stores. They allow customers to pay with their debit card, cash, any credit card, or if they are a member of pink nation, they are able to use their official Pink Credit Card. Pink credit cards come with great incentives for the customer, including coupons, deals, and occasional store credit. However, the Pink credit cards have extremely high interest rates (approximately 25%) and if they are not paid off right away they can accumulate enormous amount of debt for the customer and increase the brand's revenue.
2. Product / Service Management
2.1. Leggings
2.1.1. Shirts
2.1.1.1. Perfume/ Body mists
2.2. New products and trends are always coming out for Pink. One of the newest advancements that has caught lots of attention is the addition of larger pockets onto the sides of leggings. This is beneficial for consumers that want pockets to put items, such as their cellphone, in their pockets while still maintaining the comfort and style of leggings.
3. Pricing
3.1. Pink Product are usually higher-end clothing and that is reflected in their pricing. Although they do have sales, most of their newer, more popular items are typically full-priced.
3.2. The original prices of leggings typically vary from $39.95 - $64.95. Their shirts are normally anywhere from $24.95 - $44.95. Lastly, Pink's normal-sized Body Mists are usually $16.50.
3.3. On sale, Leggings can vary anywhere from $19.99 - $39.99. Shirts can cost $13.99 to $36.99 on sale. and Body mists can go down to $8 when on sale.
4. Distribution
4.1. Pink merchandise is sold both in stores and online through the brand's website. The website is very easy to use and can make the buying process quick and stress free.
4.2. Pink also is capable of shipping its products all around the world.
4.3. If you go to a Pink store and an item is not in stock, the brand will ship it directly to your home with no extra shipping and handling fee. This is more convenient for consumers then having to make multiple trips back to the mall in order to find a specific item..
5. Promotion
5.1. Pink uses celebrities and fashion models to promote their products. They create a perfect image/ model of what a customer wants to look like (their dream body) and convince the customer that their products will make you look and feel as perfect as the models wearing them.
5.2. Pink has a mailing list and sends text messages and emails in order to connect with customers and notify them of sales. Customers with Pink credit cards, also known as Angel cards, also receive special offers, motivating them to make another purchase.
5.3. Pink always has deals and sales going on in order to motivate customers to buy their products. Currently they have a beauty bundle for $25.This is good for both the consumer and the seller because the seller makes a larger profit if the consumer buys everything in the bundle, rather than a single body wash, and the consumer gets a better deal if they are looking to buy multiple items.
6. Marketing Information Management
6.1. Two ways that Pink can get customer satisfaction data is by having customers fill out a survey on their phone with a code from a receipt for a small percentage off their next purchase or by asking customers to rate their experience at the store on a scale of 1-10.
6.1.1. Some smart questions to ask a consumer in order to gain knowledge and feedback on the products would be: Were you happy/ satisfied with your Pink purchase?, What do you love most about Pink products?, and Do you have any suggestions on how we can improve our products?
6.2. Pink frequently uses social media- Instagram, Facebook, and Twitter to advertise its products and to gain customer information such as their target market and how popular their brand has become.
7. Selling
7.1. Pink provides customers with the goods they want in various ways. They sell both online off their official website and in their stores.
7.2. It is common to find the newer, more expensive materials up front, so that they catch the consumer's attention when they walk in the store, and the cheaper sales items are always found in the back corner of the store. Pink also sells all its clothes with its brand name and/or Pink dog logo on the item.