Renzulli Learning with a Smartboard
by
The Media Spot, LLC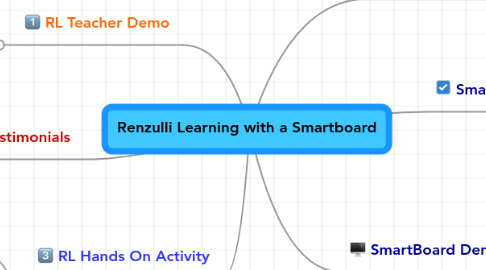 0.0
stars -
0
reviews range from
0
to
5
Renzulli Learning with a Smartboard
RL Teacher Testimonials
Nicole
Leigh
RL Teacher Demo
Interactive Demo: Finding Resources
Choose a topic from a K teacher
Find sources through RL
Do an interactive activity
Demo: Linking to Enrichment Activities on eChalk Class Pages
Can be done in class or at home.  
Demo adding "Resource" link to a class page
Smartboard Goals
Show basic functions
turning on and connecting laptops
showcasing interactive desktop (not Notebook software yet)
use of pens/eraser & screen capture
Hands-on Practice
Schedule Follow up with Mohammed
RL Hands On Activity
Log in and fill out your RL "Profile"
Could be part of students' literacy binders.  
Teachers do a quick search for resources related to a lesson
Idea: Add to a lesson you've already done.
Renzulli Goals
Demo the basics
Let teachers explore the search function (Hands On)
Schedule grade team planning meetings
Set simple Goals for December
Schedule login follow-up with Mohammed
SmartBoard Demo (throughout)
"Read Aloud" Sites are on when we start
Starfall Storytelling
Storylineonline.com
Createyourwildself.com
Btwn the Lions
(Throughout) While LF & NC are talking Renzulli, teachers are operating the Smartboard
Teachers are encouraged to ask questions throughout
Real Time Interactivity