Cambridge ODEL 2011 Home group 3 Summary
by
Solveig Jakobsdottir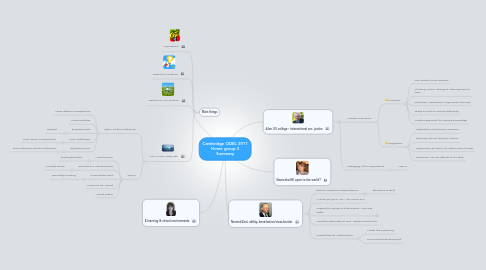 0.0
stars - reviews range from
0
to
5
Cambridge ODEL 2011 Home group 3 Summary
Alan: US college~ international soc. justice
Western education
Positives, less content, more process, Thinking, critica. divergent, learning how to learn, evaluation, assessment, arguments, theories, ability to look at content differently, Creative approach for sharing knowledge
Negatives, exploration can become narrower, teaching info wo learners' choice, arguments can leave out other point of views, Teamwork can be difficult to do fairly
Pedagogy of the oppressed?
Maori?
Stamenka:HE open to the world?
Nurend:Zeal, ability, benefaction/cross-border
Risks to academic independence
Education & skills
U dont just go to Uni - Uni comes to U
Support for going to other places - one way traffic
New node
Need for advocates of ODL -explain what to do
Possibilities for collaboration
Model like eTwinning
Some shared development
E-learning & virtual environments
Main things
Inspirations
Research, evidence
Relation to our practice
Sail or swim away with
Rythm of the conference, Ideas different perspectives, Commonalities, Empowerment, Respect, More challenge?, Post-"wow"-context drive, Big thank you!!!, This conference should continue!!!
Topics, Virtual access, leveling the field, Education in a broad sense, Context driven, Cross border links, Boundary-crossing, Forms of DE -varied, Social justice