The Need Rehabilitation of Terrorists in Iran
by Zohreh Vakilpour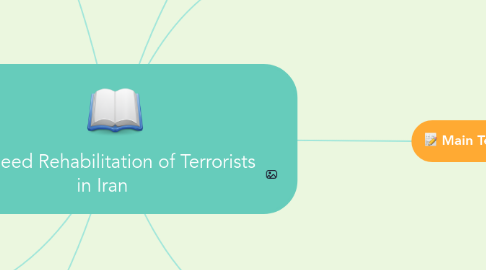 1. abstract
1.1. Iran's legislature includes rehabilitation as a method to deal with criminal offenders to ensure successful reintegration into the society. This piece observes Iran's laws on rehabilitation and states that while such a programme is in place for non-terrorist offenders, there is no cohesive rehabilitation programme for terrorists. It is argued that the benefits of this model in other cases such as Singapore and Sri Lanka necessitate its application in Iran's case.
2. Background: Terrorist Threat in Iran
2.1. Terrorism has been a major security concern since the 1979 Iranian revolution when opposition groups used terrorism as a means of protesting the regime of the Islamic Republic of Iran. Extremist groups like the Mujahedin-e Khalq (MKO) have perpetrated violent attacks to oppose the regime.1 More recently, Iran has faced a threat from Sunni Islamist terrorists group that have targeted the country partly due to the Shia government.
2.1.1. On 22 September 2018, gunmen opened fire at a military parade in Iran, killing at least 25 people including military personnel and civilians. While the so-called Islamic State (IS) claimed responsibility for the attack, the group has offered no proof. Meanwhile, the Patriotic Arab Democratic Movement in Ahwaz denied responsibility after it was reported that the local Sunni separatist group had claimed responsibility for the attack. Another group, the Arab Struggle Movement for the Liberation of Al-Ahwaz, was also accused of being responsible for the incident. This attack took place a year after the June 2017 attack on the Iranian Parliament that killed 17 and injured 56 others. Both of these recent attacks highlight the terrorist threat within the country.
2.1.1.1. Approximately 70 suspects were arrested in connection with these attacks.2 In the two years before the terrorist attacks on the parliament, 100 terrorist acts such as bomb blasts in public places were also thwarted by the Iranian security forces. The suspects who plotted the potential attacks were arrested. In fact, 48 IS members were found to be carrying large quantities of ammunition in five provinces (Tehran, Fars, Kermanshah, Kurdistan and West Azerbaijan). The recent rise in the terrorist threat necessitates long-term approaches beyond traditional and kinetic means of counter-terrorism. This article discusses the need for rehabilitation programmes for other criminals to be extended to terrorists in the Iranian context.
3. Main Text
3.1. Rehabilitation of Criminals in Iran's Legislation
3.1.1. In a bid to fight terrorism, authorities globally have stepped up their security measures significantly. A key question that authorities face is apprehending and using appropriate methods to deal with terror suspects. The securitisation of terrorism and its exclusion from the International Criminal Court's statute has paved the way for states to punish these criminals according to their domestic laws. Indeed, states may legally arrest terrorist offenders, but it is important that these offenders' rights should be respected in trials.3 The right to a fair trial is a sign of respect for the rule of law in legal and criminal cases and is one of the fundamental rights emphasised by international human rights law.
3.1.1.1. The Constitution of Iran states, in Article 156, that the judicial system must shoulder the responsibility for reforming the perpetrators. This forms the basis of support of rehabilitation and fair treatment of criminals. Both of these themes recur in the Constitution of the Prisoner Supporting Societies (1982), the Law on the Transformation of the Supervisory Board of Prisons and the Provisional Measures to the Organisation of Prisons and Measures of Provision (1986). According to Article 1 of the Constitution of the Prisoners' Cooperatives, Professions and Industries (1983), the prisoners' capacities should be increased by preventing the loss of their creativity by training prisoners and adolescents in detention centers and preparing them for their release. Several other articles also discuss the reformation of prisoners – underscoring the importance of rehabilitation in prison.
3.1.1.1.1. Regardless of these provisions, specific instruction on methods, length of rehabilitation and classification of criminals according to offenses remain insufficient. To a certain extent, principles of rehabilitation appear to apply only to non-terrorist criminal offenders. For example, officials at the Central Prison of Sanandaj provide nonterrorist prisoners with corrective, professional, cultural, and educational programmes and classes to prepare them for successful re-entry into the community. This prison has been successful in paving the way for reforming offenders and returning them to the society with the help of professional instructors, and by creating jobs for the prisoners released who are supported financially and psychologically. Prisons in Fars province, among others, have been successful in the rehabilitation of criminals by providing similar facilities that improve their well-being and chances of reintegration into society upon release
3.2. Importance of Rehabilitation for Terrorists
3.2.1. Pathways to radicalisation include a number of variables including, but not limited to economic, social, political and psychological conditions. Research studies have also established that integration into society, in contrast to harsh punishment, reduces and thwarts terrorists' alienation. Rehabilitation programmes help offenders return to normal life through education and treatment. They help perpetrators develop the confidence and ability to integrate into society as well as reduce the likelihood of recidivism. Programmes that include teaching of life skills that increase employability, improve mental and physical health, and foster positive family relationships while ensuring proper housing, make it easier for prisoners to reintegrate into society. Studies have also shown that terrorists who have not been rehabilitated tend to go back to extremism and violence after their release. On the other hand, communication with fellow prisoners might increase the chances of terrorists being radicalised and recruited in prison.
3.2.1.1. In Singapore, a terrorist rehabilitation programme began because of the threat that Al-Qaeda and Jemaah Islamiyah posed in the early 2000s. In December 2001, the Internal Security Department (ISD) disrupted a plot against US, British, Australian and Israeli targets,which partly resulted in a need to counter the ideology and curb radicalisation through a rehabilitation programme. In early 2002, two religious clerics established the Religious Rehabilitation Group (RRG), where religious scholars de-radicalised and rehabilitated the JI detainees. Family members of the detainees also received counselling. The Singapore model has since been seen as a 'gold standard' for other countries. Besides religious rehabilitation, Singapore has a holistic programme that includes social and psychological rehabilitation to increase effectiveness.
3.2.1.1.1. The Sri Lankan programme is another commendable rehabilitation effort that focused on de-radicalisation of former fighters of the Liberation Tigers of Tamil Eelam (LTTE) who fought against the government in a 26-year long civil war. One of the significant aspects of the rehabilitation programme was the vocational educational courses designed to prepare the detainees for integration in the society upon their release. These courses have focused on giving the detainees vocational training to ensure economic security and employment. This resulted in attitude change with LTTE members seen as less likely to engage in violence upon release.
4. Conclusion
4.1. programmes. Even though Iran has seen relative success in implementation of hard power and preventive security measures, soft measures for long-term peace need to be explored. Terrorist offenders should have access to rehabilitation programmes to effectively counter the terrorism threat, based on lessons from other successful programmes. The core of a rehabilitation programme should focus not only on rehabilitating terrorists during their prison sentence but continuing to monitor them afterwards to ensure successful reintegration into society.
5. References
5.1. 1. Institute for Political Studies. Mojahedin-e Khalq Organisation: The Beginning to the End (1965-2005), (A summary of the three volumes), Tehran, (2011): P. 277 2. Mahdieh Mohammadi. The latest state of the case related to the ISIS terrorist group, see: https://www.mehrnews.com/news/4114260, (2017). 3. Behnam Rastegari & Shohreh Mousavi and Rohaida Nordin. "Violation of Human Rights under the Pretext of Counter-Terrorism Measures: A Critical Legal Analysis of the United States of America's Declaration of War on Terrorism",International Conference on Law, Order, and Criminal Justice, (2014): p. 2. 4. Amir Hassan Niazpour, "Criminological Assignments of the Judicial System in the Light of the Law of the 5th Programme of Economic, Social, and Cultural Development", The Judiciary Law Journal, (2012): pp. 193-222. 5." Promoting the teachings of the Holy Qur'an is an important solution for the rehabilitation of prisoners"; Release Date: (February 4, 2012), http://iqna.ir/fa/news/2485145 (accessed May 9, 2018) 6. Shiraz Public Prosecutor and Revolution, "The purpose of the prison is to reform and rehabilitate thehelp-seekers",Farprisons, http://farsprisons.ir (accessed May 9, 2018). 7. "Director General of Fars Prison: It is the duty of cultural custodians to strictly implement Quranic programmes and prayers in prisons." http://farsprisons.ir (accessed September 26, 2018). 8. "Chief Justice of Fars' General: Executions Have Been Carried Out in Prisons In Shiraz For The Rehabilitation Of The Prisoner's Personality", Borna. ,https://www.borna.news (accessed September 26, 2018). 9. "Closing ceremony of the 2nd Sport Olympiad in Prisoners of Central Prison in Shiraz", Farprisons, http://farsprisons.ir (accessed September 26, 2018). 10. Bruce Hoffman, "The Prevention of Terrorism and Rehabilitation of Terrorists: Some Preliminary Thoughts", RAND, Pub, (1985). 11. Rohan Gunaratna, "Terrorist Rehabilitation: A Global Imperative", Journal of Policing, Intelligence and Counter Terrorism, Taylor & Francis Online, 6, 1, (April 2011): pp. 65-82. See: https://www.rsis.edu.sg/staff-publication/1240- terrorist-rehabilitation-a-g/#.WwulzCAVTIU , (accessed May 15, 2018)help-seekers",Farprisons, http://farsprisons.ir (accessed May 9, 2018). 12. Malkanthi Hettiarachchi. "Sri Lanka's Rehabilitation Programme: A New Frontier in Counter Terrorism and Counter Insurgency," PRISM 4, no 2., pp 105 – 122.
6. Authors
6.1. Zohreh Vakilpour studied Public International Law from Azad University in Iran and can be reached at: [email protected] Behnam Rastegari, PhD, in Public International Law from the Universiti Kebangsaan Malaysia (UKM) is a visiting lecturer at the Faculty of Law and Political Science, Shiraz University. He can be reached at: [email protected]
7. How to cite
7.1. MLA: Vakilpour, Zohreh, and Behnam Rastegari. "The Need for Rehabilitation of Terrorists in Iran." Counter Terrorist Trends and Analyses 10.10 (2018): 17-19 . APA: Vakilpour, Z., & Rastegari, B. (2018). The Need for Rehabilitation of Terrorists in Iran. Counter Terrorist Trends and Analyses, 10(10), 17-19. Chicago: Vakilpour, Zohreh, and Behnam Rastegari. "The Need for Rehabilitation of Terrorists in Iran." Counter Terrorist Trends and Analyses 10, no. 10 (2018): 17-19. Harvard: Vakilpour, Z. and Rastegari, B., 2018. The Need for Rehabilitation of Terrorists in Iran. Counter Terrorist Trends and Analyses, 10(10), pp.17-19. Vancouver: Vakilpour Z, Rastegari B. The Need for Rehabilitation of Terrorists in Iran. Counter Terrorist Trends and Analyses. 2018 Oct 1;10(10):17-9.
8. How to reach full text once
8.1. Counter Terrorist Trends and Analyses (CTTA) – Volume 10, Issue 10 | RSIS