OUTILINES A LO KDP!
by adolfo amador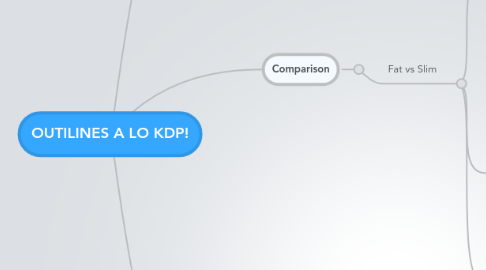 1. EXAMPLE
1.1. lOVE is beautiful
1.1.1. people need love to be complete in this earthly world
1.1.1.1. A boy visiting his grandfather and giving him a huge hug.
1.1.1.1.1. Give a kiss to your momma in her birthday will be a great gift.
1.1.1.1.2. Saying I love you in new year to your boyfriend is really sweat.
1.1.2. people needs a partner to reproduce.
1.1.2.1. A person receiving punches in the face trying to defend his friend
1.1.2.1.1. someone seeing his friend in a party being hit and get in the fight
1.1.2.1.2. someone putting his body like a shield for protect a friend
1.1.2.2. a mother giving her clothes to her son for taking
1.1.2.2.1. being in winter vacations and help your friends with your clothes
1.1.2.2.2. being in a situation that you really need something to cool off
1.1.2.2.3. someone really wet that needs some clothes to survive
1.1.2.2.4. helping someone for love with your clothes in a situation that required this type of help
1.1.3. CONCLUSION
2. Comparison
2.1. Fat vs Slim
2.1.1. fat
2.1.1.1. big people
2.1.1.1.1. fat people is very big because they have a lot of fats
2.1.1.1.2. fat people is big because they eat a lot
2.1.1.2. obesity
2.1.1.2.1. fat people is sick because they eat a lot
2.1.1.2.2. this sickness can killed
2.1.1.3. slow people
2.1.1.3.1. they are slow because they are very heavy
2.1.1.3.2. they dont phisical condition
2.1.2. slim
2.1.2.1. skinny
2.1.2.1.1. they are skinny because they dont eat
2.1.2.1.2. they can have a very good metabolism
2.1.2.1.3. they can make a lot of sports
2.1.2.2. weak pople
2.1.2.2.1. some slim person dont go to the gym and they are small
2.1.2.2.2. they dont like to eat a lot and they dont have vitamins
2.1.3. people should make sport to be in a safe life
3. Clasification
3.1. Meals
3.1.1. everyone needs food to live
3.1.1.1. fast food
3.1.1.1.1. hamburgers
3.1.1.1.2. pizza
3.1.1.2. breakfast
3.1.1.2.1. scramble eggs
3.1.1.3. lunch
3.1.1.3.1. sandwich
3.1.1.4. food is very important for human life without this no one would have energy to continue living