CTRP relationship between people, places, and natural environment. How people adapt to their place, and modify our natural environment
by Jingwen Lin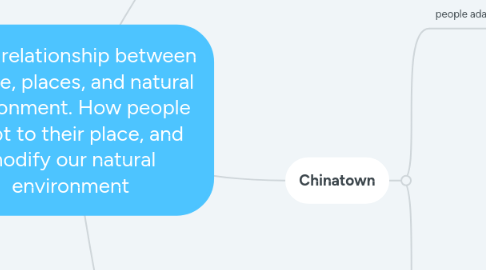 1. the pedestrian sidewalk is quite dangerous
1.1. water splash when car drives by the impervious floor (flood)
2. Chinatown
2.1. people adapt to place
2.1.1. no public open space
2.1.1.1. social problem
2.1.1.1.1. lack of entertainments, stay at home
2.1.1.1.2. dance in the mornings, cause it will be annoying to the neighbors at night. But those who work are unable to participate.
2.1.1.1.3. casino with friends who can drive
2.1.2. very little trees in the neighborhood because the community is too small
2.1.3. lack of job oppertunities
2.1.3.1. always are restaurants, grocery stores, nail salons, hair salons, food place, bread store.
2.1.3.1.1. so people have to commute in order to find other jobs.
2.1.4. live here for convenience
2.1.4.1. no place to park cars, so they have to pay the parking lots to park. --> extra money
2.1.4.1.1. I would not want to own a car since the public transportation is so close to it
2.1.4.2. Becomes exclusive. people unable to afford buying houses in CT, rent it therefore do not feel sentimentally attached to it.
2.1.4.2.1. because of its small size, people are willing to live in mixed-use apartments
2.1.4.3. center city is very close to it
2.2. people modify our natural environment
2.2.1. create public space
2.2.1.1. Chinatown Parklet, 10th & Cherry Street
2.2.1.2. 10th st plaza
2.2.1.2.1. no one uses it because it is mainly used by homeless people to hang out.
2.2.2. our value and goal determines how we use the space
2.2.2.1. "Our cities are different because we IMAGINE, build and use them differently"
2.2.2.2. too many restaurants, salons, bubble tea store to make profits.
2.2.2.3. the book stores are closed
2.2.2.4. very little people care about the public space for elders. only to exploit from the younger generations.
2.2.3. Sanitary problem
2.2.3.1. community spring clean up
2.2.3.2. $1-a-day
3. plant vs zombies