Environment en Peace.
by Sandra Puello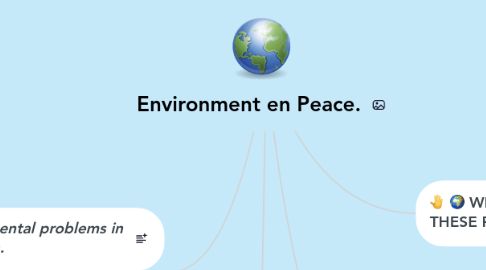 1. Environmental problems in Colombia.
1.1. Damage caused by mining.
1.2. Deforestation.
1.3. Loss of moorland.
1.4. The trash.
1.4.1. Homes
1.4.2. Offices
1.4.3. Factories
1.4.4. The amount and type of garbage depends on each region or country, but consumerism and the number of inhabitants are related to the amount of garbage that is generated, so contamination becomes a bigger problem.
1.5. Atmospheric pollution.
1.5.1. Atmospheric pollution directly damages:
1.5.1.1. The water.
1.5.1.2. The soil.
1.5.2. What can kill crops and trees.
2. WHAT CAN WE DO TO SOLVE THESE PROBLEMS?
2.1. Taking care of forests!
2.2. Less pollutants!
2.3. Take advantage of the lands!
2.4. Take care of the water!
2.5. We as citizens must become aware of the problem we live in and it affects us day after day, demanding respect for the environment.
3. what can we do about it?
4. Pollution of the world.