TIPS FOR SUCCESSFUL SCIENTIFIC WRITING (keep writing as simple as possible)
by Almu Toro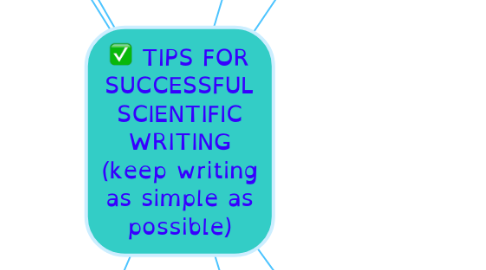 1. USE OF ARTICLES
1.1. Definite
1.1.1. THE (sg/pl/uncountable).
1.1.2. Used to refer to known entities.
1.2. Indefinite
1.2.1. A/AN (sg).
1.2.2. Zero article (pl/uncountable).
1.2.2.1. Special cases.
1.2.2.1.1. Proper nouns.
1.2.2.1.2. Lakes.
1.2.2.1.3. Most countries.
1.2.3. Used to refer to unknown entities.
2. ACTIVE OR PASSIVE?
2.1. ACTIVE
2.1.1. When the subject is the actor.
2.1.2. It is always used with intransitive verbs (verbs that cannot be combined with OD).
2.2. PASSIVE
2.2.1. When the focus is on the action itself.
2.2.2. Form; BE+PAST PARTICIPLE.
2.2.3. More advisable for scientific writing because it removes some accusations and provides the text with a feeling of logic.
3. CONCORDANCE
3.1. Subject and verb share the same grammatical number.
3.1.1. Special cases
3.1.1.1. Quantities (sg).
3.1.1.2. Only plural nouns.
3.1.1.3. Irregular plural.
3.1.1.4. Collective nouns (pl).
3.1.1.5. nouns that can take singular or plural.
3.1.1.5.1. Singular form when referring to something as a complete whole.
3.1.1.5.2. Plural form when making reference to the elements separately.
4. TENSES
4.1. Present
4.1.1. Advisable for accepted facts, result and conclusion sections.
4.2. Past
4.2.1. Methodology and result sections to describe what was done.
4.3. Future
4.3.1. To describe possible future events.
5. MISPELLING AND ACCURACY
5.1. no hyphens when using latin words or no english ones as adjectives.
5.2. Divide words if it is necessary but do it correctly.
5.3. Avoid contractions.
5.4. Proper nouns, key words in titles and first words in a sentence should be written in capital letters.
5.5. If some abbreviations are used, they must be clarified to make text comprehension easier.
5.6. Do a final revision to check spelling, text structure, punctuation and missed
6. LINK PROCESSES
6.1. Coordination
6.1.1. Used to join sentences at the same level.
6.2. Subordination
6.2.1. Used to join sentences at a different level.
7. ADJETIVATION
7.1. Adjectives go before nouns in English.
7.2. Adverbs precede adjetives in English.
7.3. Qualifying adjectives must be avoided they could be considered subjective.