Charlie Parker was the best Bebop Sax Player
by Arian Perez-Ramos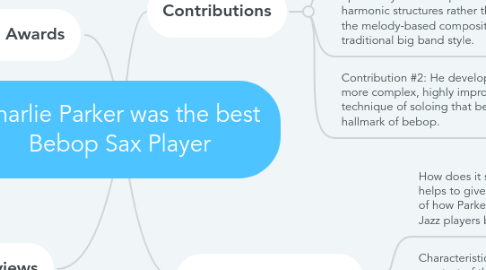 1. Contributions
1.1. How does it support my statement? -It helps to recognize more specifically how he innovated, how he improved the Bebop era.
1.2. Contribution #1: Parker represented an upbeat style that emphasized random harmonic structures rather than adhering to the melody-based compositions used in the traditional big band style.
1.2.1. Details: Statement provided in the article made by Jason Roe (writer, history specialist of Charlie Parker native city), an article heavily based in Parker's several biographys.
1.3. Contribution #2: He developed a quicker, more complex, highly improvisational technique of soloing that became the hallmark of bebop.
1.3.1. Details: Information obtained from a biography by Todd Barnett, having citations of books, articles and newspaper.
2. Why he was Unique
2.1. How does it support my statement? -It helps to give reason towards my statement of how Parker differed from other Bebop Jazz players by basing it from changes.
2.2. Characteristic #1: Parker was considered the greatest of the bebop jazz musicians by leaving the traditional musical melody and play music freely.
2.2.1. Details: Information announced in the Shirley Griffith radio show (Researcher and Radio Presenter) -Program date, 2005
2.3. Characteristic #2: Charlie Parker, known by the masterful alto saxophonist who rose to prominence in the '40s, as one of the inventors of "bebop"
2.3.1. Details: Mentioned by Will Layman (writer, musician and Jazz critic), In his article about Charlie Parker's biography made by Chuck Haddix -Book published in 2013
3. Prizes and Awards
3.1. How does it support my statement? -It helps my to demonstrate the outstanding prizes he got by placing between the best musicians.
3.2. Example #1: Grammy Award of the Best Jazz Performance by a Soloist
3.2.1. Details: 1974 - Album First Recordings!
3.3. Example #2: Grammy Lifetime Achievement Award
3.3.1. Details: 1984 - Granted for being an artist who released creative contributions
4. Reviews
4.1. How does it support my statement? -It helps me to present other perspectives than mine about how Parker impacted in the Bebop Jazz Era.
4.2. Review #1: Though the arrangements were rather ordinary, Parker's playing was simply extraordinary. -Review about one of his album
4.2.1. Details: Album Charlie Parker with strings (1950) . Review about the album was written by: Lynn René Bayley (Experienced Band Director and Editor).
4.3. Review#2: "Charlie Parker, no matter how highly talented, was not ¡greater than his idiom. But his work helped to lead the art form to its most penetrating achievement."
4.3.1. Details: Opinion about Parker's life in his age of beginning his career, from Stanley Crouch, writer of a Charlie Parker biography. -Kansas City Lightning: The Rise and Times of Charlie Parker, 2007.