Global E-business and Collaboration
by daniela oyola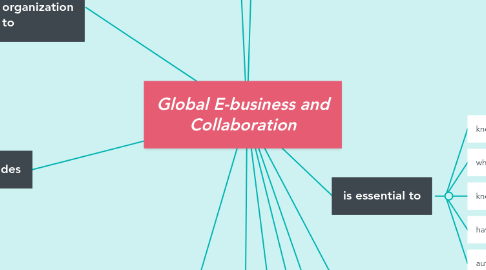 1. SYSTEMS FOR LINKING THE ENTERPRISE
1.1. Enterprise Applications
1.1.1. all levels of management
1.1.2. businesses become more flexible and productive
1.1.3. coordinate business processes
1.1.3.1. enterprise systems
1.1.3.2. supply chain management systems
1.1.3.3. customer relationship management systems
1.1.3.4. and knowledge management systems
1.2. Intranets and Extranets
1.2.1. alternative tools often costly and difficult to implement
1.2.1.1. INTRANETS
1.2.1.1.1. Internal company web sites for employees
1.2.1.2. EXTRANETS
1.2.1.2.1. Company web sites for vendors and suppliers
2. It helps an organization to
2.1. Make a difference
2.1.1. Grow profits
2.2. expand its market scope
2.2.1. Execute its processes in an efficient way
2.3. Remain competitive
2.3.1. make better decisions
2.4. facilitate employee collaboration and engagement
3. It provides
3.1. New channels for knowledge acquisition
3.2. innovation
3.2.1. collaboration
3.2.1.1. business solutions
3.3. cross-functional business processes
3.4. business challenges
3.4.1. processes change
3.4.2. culture changes
3.4.3. budget changes
4. E-BUSINESS, E-COMMERCE, AND E-GOVERNMENT
4.1. Digital relationships using networks and Internet to:
4.1.1. Electronic business
4.1.1.1. execute business processes in the enterprise and to coordinate with suppliers and other business partners
4.1.2. Electonic Commerce
4.1.2.1. buy and sell goods and services
4.1.2.1.1. marketing
4.1.3. Electronic Government
4.1.3.1. Deliver info and services to citizens, employees, and businesses with which they work
5. Social business
5.1. Use of social networking platforms and internal corporate social tools to interact directly among employees, suppliers and customers enhancing info sharing, impoving innovation and decision making
5.1.1. Applications
5.1.1.1. Blogs and Wikis
5.1.1.1.1. Emails
5.1.1.2. Apps and Websites
5.1.1.2.1. Social Networks
5.1.1.3. Crowdsourcing
5.1.1.3.1. Shared Workspaces
5.1.1.4. Social commerce
5.1.1.4.1. Social Marketing
5.1.2. Benefits
5.1.2.1. Productivity
5.1.2.1.1. Quality
5.1.2.2. Financial performance
5.1.2.2.1. Profitability, Sales growth
6. is essential to
6.1. know how business processes work
6.2. which processes can be changed
6.3. know the business model
6.4. have a rapid flow of information
6.5. automatize manual business processes
7. Systems for different Management groups
7.1. Transaction Processing Systems
7.1.1. operational level
7.1.1.1. computerized system
7.1.2. performs and records the daily routine activities and transactions
7.1.3. easily available, current and accurate info
7.1.4. internal operations and the external environment
7.1.4.1. sales order entry, reservations, payroll, employee record keeping, shipping, etc.
7.2. Systems for Business Intelligence
7.2.1. Data and software tools that deliver info to support management decision making in all levels of management
7.2.1.1. Management information systems (MIS)
7.2.1.1.1. monitor & control decision-making and administrative activities
7.2.1.1.2. reports on the organization's current performance and predict future performance
7.2.1.1.3. middle management
7.2.1.2. Decision-support systems (DSS)
7.2.1.2.1. Problems with no solution predefined
7.2.1.2.2. analytical model databased
7.2.1.2.3. use internal info from TPS and MIS and from external sources
7.2.1.2.4. "super-user" managers and business analysts
7.2.1.2.5. voyage-estimating system
7.2.1.3. Executive support systems (ESS)
7.2.1.3.1. filter, compress, and track critical data, displaying the data of greatest importance to senior managers
7.2.1.3.2. graphs and data
7.2.1.3.3. incorporate data about external events and draw summarized information from internal MIS and DSS
7.2.1.3.4. trends and forecasting
8. supported by
8.1. material
8.2. information
8.3. knowledge among the participants
8.4. computer-based system information
9. involve
9.1. The company
9.1.1. suppliers
9.1.1.1. customers
9.1.1.1.1. employees
9.2. invoices
9.2.1. payments
9.3. products
9.3.1. services
10. Collaboration
10.1. Working with others to achieve shared and explicit goals
10.1.1. Teams, systems and tech
11. Informations system department
11.1. Programmers
11.2. System analysts
11.3. Project Leaders
11.4. Information System Managers
11.4.1. Chief Information Officer
11.4.2. Chief Security Officer
11.4.3. Chief Privacy Officer
11.4.4. Chief Knowledge Officer
11.5. End Users