Digital Formative Assessments
by T ryan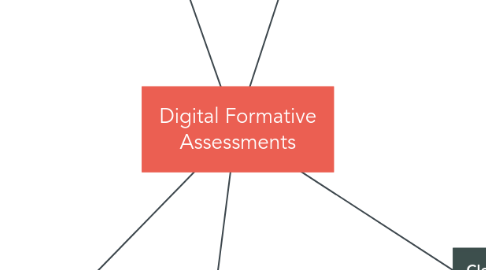 1. Audio/Visual
1.1. Flipgrid
1.1.1. Flipgrid is an app where students can respond to discussions using short videos. Students are able to upload, view, and comment on videos.
1.2. SoundNote
1.2.1. SoundNote is a powerful notetaking app. It records audio with digital notes so that nothing is missed.
1.3. iMotion
1.3.1. iMotion is a stop motion video app. It allows users to create stop motion and timelapse videos with their phone that can be easily exported.
1.4. iMovie
1.4.1. iMovie allows for students with iOS devices to create, edit, and share videos. The easy to use interface has a small learning curve and many can easily cut, snip, and combine video clips.
2. Engagement
2.1. Things 3
2.1.1. Need to get organized and stay on task? Things 3 may be the answer. This award winning app allows for the organization of day to day tasks, homework, and work in one simple interface.
2.2. EarthViewer
2.2.1. EarthViewer is an interactive app that allows for users to see how Earth has changed over its history. The app highlights many physical properties of the Earth including climate, sea level, and geography.
2.3. Litterati
2.3.1. Litterati is an app that promotes awareness by building a digital landfill. Users upload a photo of litter and location data is gathered into a community map.
2.4. Star Chart
2.4.1. Star Chart is an augmented reality app that allows users to get real time information about planets and stars. Simply pointing your mobile app in the sky will give the name of constellations, stars, and planets that can be seen.
3. Productivity
3.1. Remind
3.1.1. Whether needing to send an update to a class, team or group, Remind offers an easy way to send updates and communicate for coaches, teachers and class mates.
3.2. Wunderlist
3.2.1. Wunderlist is a to-do list app and task manager. The app syncs between phone, tablets, and computers, giving access to to-do lists on all devices.
3.3. Office Lens
3.3.1. Office Lens allows for users to upload pictures of documents, notes, or other writings samples to Microsoft OneDrive. The app can upload documents as pdf or text.
3.4. Studious
3.4.1. Studious is a homework and study assistant. It organizes assignments and exams by due dates to provide the best timeline to complete or prepare for each task.
3.5. WolframAlpha
3.5.1. WolframAlpha is the ultimate calculator and source of knowledge. This application can solve almost any problem and show the step by step solution process.
3.6. Zoom
3.6.1. This app allows for video or audio conferencing from any device from anywhere. Whether a meeting, class, workshop, or just to discuss an idea, Zoom can make it happen. It even allows recording of the event, so missing a comment is no problem.
4. Cloud Storage
4.1. Google Drive
4.1.1. This file sharing solution is built for collaboration. What it may lack in organizational tools, it offers in ease of use and integration with most any other product.
4.2. EverNote
4.2.1. Evernote gives users access to their notes, lists, and ideas across all of their devices. This allows for users to easily work on the road and transfer content between devices.
4.3. Dropbox
4.3.1. Dropbox allows you to keep all your files in one place. It allows users to access files whether on a phone, iPad, or at the computer.
4.4. Box
4.4.1. Box is not only a great way to manage files and information, but also offers a variety of solutions for various industries and teams. It offers such functions as "live notes" that can be shared during class or an event with your team or classmates.
4.5. Google Keep
4.5.1. Google Keep allows you to organize and put all different types of information in one place. Forget what you called something, no problem, it's fully searchable.
5. 21st Century Classroom
5.1. Apple Books
5.1.1. Apple Books has a great range of free eBooks along with classics, bestsellers and audiobooks all in one easy to use layout.
5.2. StudyBlue
5.2.1. Like flash cards? Check out Study Blue. This app offers more than 400 million flash cards, study guides and notes on a wide-variety of topics. It also allows for the sharing of study materials.
5.3. Unstuck
5.3.1. Ever get stuck on a paper or project. Check out Unstuck. The app asks you a series of questions which helps you change your frame of reference and get out of the rut you may be in. It has been used by leaders of companies like Apple.
5.4. Audible
5.4.1. This app provides a large variety of books, podcasts, and in some cases pdfs for both free and for purchase. Great for brushing up on a topic while traveling, commuting, or when trying to reach that 100 book a year mark.
5.5. Trello
5.5.1. Visual learner and need to get organized? Try Trello. This app uses cards or boards to organize information projects. It has a built in calendar function and offers reminders.