Flipped classroom
by
Ashley Tan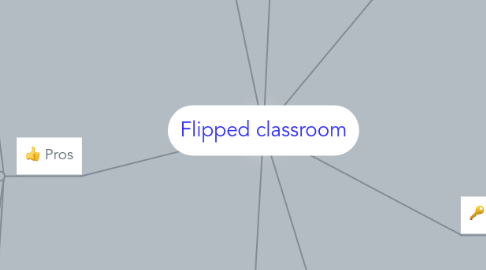 5.0
stars -
1
reviews range from
0
to
5
Attempt to define what a flipped classroom is.
Doing activities in class
Learning takes place at home
Questions answered in school
Involvement of ICT Tools to communicate knowledge/information to students
A flexible classroom integrated through ICT
"TEACH LESS, LEARN MORE"
Homeworks done in classroom
Students
Teachers
Parents
Record videos
Allow students to do e-learning where students are given instructions as to where to obtain the video from
Class blog where the students can find resources for their learning at home
Information to be delivered in class via vodcast
Anything not traditional
Podcast
Students to gather questions about the topic learnt and will clarify them in school if they have doubts
Class Wiki
Use online mind mapping tools to explain topics/concepts
Internet Access - Students who do not have internet access could not reap the full benefits of it and may end up losing out in class
Can be quite messy after some time
student learning the wrong knowledge/concept
students might not have internet access at home thus not able to prepare for the lesson in advanced.
Students may not access the links given. Therefore, being unprepared for class.
Students might not watch the videos posted fully. They may skip certain parts if it is a longwinded classroom.
Requires student to exercise great discipline to view the lesson/resources on their own.
Teacher will have to address the students queries individually and this consumes more time. Unless, the teacher comes out with a way to collate the questions and address similar questions as a whole in class.
Not all material is suitable to be taught through a video lesson
Suggest reasons for flipping a classroom.
More student-centred
students can feel ownership towards learning
It saves a lot of time and space furthermore it encourages technology-inclined students to learn
Encourages peer-sharing
More hands-on experience. Facilitate learning better.
Less teacher fronted in classroom
move away from the traditional classroom setting where students come in with very little knowledge about a certain topic. students can now take ownership of their learning.
In line with the 21st century classroom environment through the usage of ICT --> Less face-to-face interaction
Students have different learning methods. Learning can take place at home, at their own pace and methods
'WWW' (whatever, whenever, wherever)
What questions or concerns do you have about flipping a classroom? What should a teacher do if in class during 'activity time', some students have yet to view the lectures they are supposed to watch at home? (Nadzirah)
What happens after mapping?
What if the students do not understand the lecture and would want the lecture to be carried out in the classroom? (students prefer traditional classroom)
What should a teacher do if by the time they are in class for activity, some of the students have yet to view the flipped classroom lectures at home?
How do the teacher address to the students queries and problems to the homework that they have done? Individually? If it is individual, wouldn't it take a longer time?
How do you apply to teaching language?