Lack of technical manpower and infrastructure hurts IT growth in Northeast.
by Wanah Nurul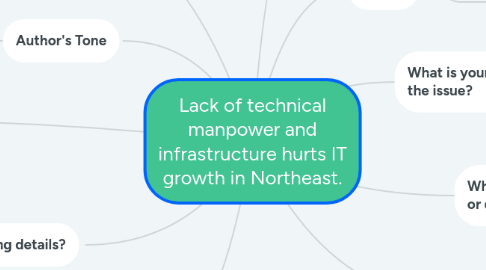 1. Authors
1.1. Indu Nandakumar
1.2. Harichanda Arakali
2. Source
2.1. Online Newspaper
2.1.1. Economic Times
3. The overview of the article
3.1. Issue
3.1.1. Narendra Modi may want information technology companies to flock to the Northeast but software services firms are saying the BJP prime ministerial candidate's wishes are unlikely to be fulfilled any time soon.
3.2. Author's POV
3.2.1. The absence of technical manpower exacerbated by the lack of infrastructure prevents development of IT in the Northeast.
4. Author's Tone
4.1. Sceptical
5. What are the key points?
5.1. The lack of technical manpower is the single most important reason for the industry to shun the region and concerns.
6. What are supporting details?
6.1. less than stable governance seem to be more secondary.
6.2. The challenge lies in attracting large pools of technical manpower in the Northeast.
7. Evidence for the main idea
7.1. Between 2011 and 2021, the region will have close to 17 Million job seekers and only 2.6 Million jobs, half of which will be in Assam alone, according to a January 2013 report by the Indian Chamber of Commerce and the consultancy PricewaterhouseCoopers.
8. What is your opinion or stand on the issue?
8.1. We agree that the Narendra Modi wants to flock the Information Technology companies at the Northeast.
9. What are your reasons to agree or disagree?
9.1. So young people does not have to flock to bigger centres such as Bangalore and Hyderabad.
9.2. The economy will be increase if the IT grow at the Northeast and the job seeker will be decrease.
10. Restate your opinion or stand, and write a comment.
10.1. We agree that the Narendra Modi wants to flock the information technology companies at the Northeast. We think the Northeast to build more engineering school and university to improve IT growth.