PREDESIGN
by Lisa Mee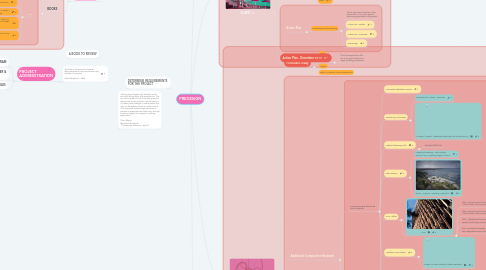 1. Heritage Buildings Geelong
2. APARTMENTS clause 58
2.1. Better Apartments Design Standards
2.2. Apartment Design Guidelines
3. A BOOK TO REVIEW
4. A Guide to Construction Projects: Best practices for the procurement and delivery of a project Keith Neighbour - 2006
4.1. PROJECT ADMINISTRATION
4.1.1. CRITICAL PATH DIAGRAM
4.1.2. WEEKLY PLANNER & TIMESHEETS
4.1.3. PROJECT FILES
5. "Every project begins with research as the principal driving force of the production. The aim of the research is to formulate questions appropriate to the problem that will assist us in creating new linkages or relationships that may not be apparent from an initial analysis. This reiterative methodology continues a process of exploration and discovery through continual analysis of a project's evolving parameters." Thom Mayne Morphosis Architects "Combinatory Urbanism" pp12-3
6. BRIEF
6.1. Precedent Study
6.1.1. Local
6.1.2. Global
6.1.3. Historic
6.1.4. Public Art and/or Urban Infrastructure
6.2. Additional Comparitive Research
6.2.1. Find previously written briefs or built projects
6.2.1.1. Convention/Exhibition Centre
6.2.1.2. Performing Arts Centre
6.2.1.2.1. Development Victoria - Overview
6.2.1.2.2. HASSELL | Project - Geelong Performing Arts Centre (GPAC)
6.2.1.3. Seaford Lifesaving Club
6.2.1.3.1. Excellent ESD Brief
6.2.1.4. Safe Harbour
6.2.1.4.1. Waterfront Geelong - Safe Harbour Precinct | G21 Geelong Region Alliance
6.2.1.4.2. Terroir - Projects - Geelong Waterfront
6.2.1.5. CH2 - Office
6.2.1.5.1. CH2
6.2.1.6. Frankston Train Station
6.2.1.6.1. Design Of New Frankston Station Revealed
6.2.1.7. Southern Cross Station
6.2.1.7.1. Section
6.2.1.8. Parramatta Transport Interchange
6.2.2. Development Victoria
6.2.3. Planning Applications - Current
6.2.3.1. Advertised planning applications
6.2.3.2. Advertised planning applications
6.2.3.3. Advertised planning applications
6.3. Building Classifications and Codes
6.3.1. National Construction Code
6.3.2. Guide to Accessibility
6.4. ESD
6.4.1. Sustainable Design Assessment in the Planning Process
6.4.2. Sustainable Building Policy - Geelong Council
6.4.2.1. BESS
6.4.2.2. GreenStar
6.4.3. The Conversation - a critique
6.4.4. NCC Energy Efficiency Provisions - Handbooks
6.4.4.1. Volume One - 2018
6.4.4.2. Volume Two - 2016
6.5. OVGA - Good Design Publications
7. SITE
7.1. Existing Conditions Site Plan
7.1.1. Planning Maps Online
7.1.1.1. Zones
7.1.1.1.1. colour coded with legend
7.1.1.2. Overlays
7.1.1.2.1. KEY OVERLAYS
7.1.1.3. Parcels
7.1.1.4. Railways
7.1.1.5. Contours
7.1.2. Historic Maps State Library of Victoria
7.1.2.1. 1853
7.1.2.2. 1855
7.1.2.3. 1865
7.1.2.4. 1905
7.1.2.5. 1940
7.1.2.6. 1980
7.2. Street Scapes and Site Sections
7.3. Building Details
7.4. Planning Schemes
7.4.1. Urban Design Guidelines for Victoria
7.4.1.1. Introduction
7.4.1.2. Guidelines
7.4.2. Greater Geelong Planning Scheme
8. CLIENT
8.1. History of Geelong
8.1.1. General
8.1.2. Topical
8.1.2.1. Indigenous
8.1.2.2. Industrial
8.1.2.2.1. Wool
8.1.2.2.2. Rope and Paper
8.1.2.2.3. Automotive - Ford
8.1.2.2.4. Oil Refinery - Shell
8.1.2.2.5. Glass - Pilkington
8.1.2.3. Innovation
8.1.2.3.1. Refrigiration
8.1.2.3.2. Long distance telephone
8.1.2.3.3. Hills Hoyst
8.1.2.4. AFL - Geelong Cats
8.1.3. News
8.2. Action Plan
8.2.1. Revitalising Central Geelong
8.2.1.1. This is the current iteration of the Action Plan. It is a must read to becoming grounded in the project.
8.2.1.2. Action Plan - Details
8.2.1.3. Action Plan - Overview
8.2.1.4. Home Page
8.3. Action Plan - December 2013
8.3.1. This first stage Action Plan has some good references: maps, building projects etc.
9. PROPOSAL
10. RESOURCES
10.1. SLACK
10.1.1. This will be the group's key point of communication outside the studio. You are expected to download the mobile app and join the group immediately.
10.1.2. The group is called 2019-UCAP-3E
10.1.3. 2019-ucap-3e.slack.com
10.2. BOOKS
10.2.1. RMIT LIBRARY
10.2.2. Online
10.2.2.1. Manual of Section LTL Architects
10.2.2.2. Constructing Architecture: Materials, Processes, Structures Andrea Deplazes
10.2.2.3. Architecture in Detail II Graham Bizley
10.2.2.4. Introducing Architectural Tectonics: exploring the intersection of design and construction Chad Schwartz
10.2.2.5. Introducing Architectural Theory: debating a discipline Korydon H. Smith
11. DETERMINE REQUIREMENTS FOR THE PROJECT
12. hhhhh