Article 1 : Should transportation security regulations be changed?
by ain nurina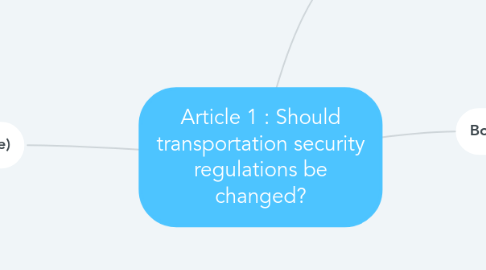 1. Intro
1.1. Overview issue
1.1.1. Issue : Transportation Safety Board frustrated with seaplane safety rule delays
2. Body (argumentative article)
2.1. Key points
2.1.1. Agree
2.1.1.1. Transportation Safety Board investigators recommended rapid emergency exits
2.1.1.2. Transport Canada make such safety features mandatory
2.1.2. DIsagree
2.1.2.1. Aircraft manufacturers and Transport Canada reject the recommendation for improved emergency exits
3. Body (personal opinion)
3.1. Our team's opinion
3.1.1. I agree that transportation security need to be changed as it involves people's life
3.2. Reason to agree
3.2.1. Since the 2009 Saturna tragedy, there have been as many as eight drownings following float plane crashes in Canada.