The existence Urban, community-driven, sustainable development considering three key components
by Mackenzie Mindel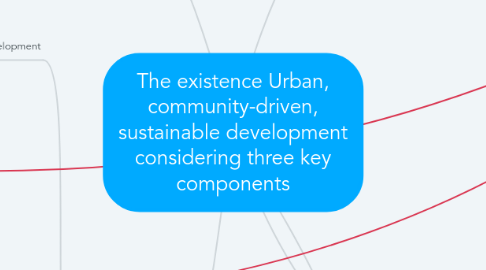 1. Addressing and Integrating Equity
1.1. non-community-driven development affects communities
1.1.1. Developers
1.1.1.1. Properties as investments
1.1.1.2. Purchase land sometimes years in advance because they see future development and profit potential
1.1.1.2.1. Ex: Hutter, Wolff, Stangel purchased Darbo parcels years in advance. Darbo is experiencing subtle shifts in development
1.1.1.3. Have the money to make quick decisions whereas community-driven sustainable development may not have the resources/power/privilege to move quickly. If that was the case, MP would have a building by now.
1.1.2. Community experiencing development
1.1.2.1. "Planning is often done by people who won't be affected personally by the plans themselves" - Annette Miller, APA-WI 2018 "Growing Inclusive Communities"
1.1.2.2. Planning attempts to have public input and engagement. Municipalities have less power than private developers
1.1.2.2.1. Will, Donale, Tamika were included in planning of the Darbo-Worthington Neighborhood Plan, 2017, but outcomes of plan made them feel like they are doing what "they" wanted in the first place i.e. playing lip service
1.1.2.3. Development for the purpose of controlling spaces
1.1.2.3.1. Ex: Warner Beach-some community members expressed dislike of certain communities (of color, or people doing certain activities) so the complained to the city. City Planning, Northside Planning Commission, Clear Lakes Alliance, Neighborhood Associations held "Re-imagine Warner Beach" Project
1.2. Purpose of Space and Place
1.2.1. Spaces offer people a Sense of Place, Beaches and neighborhoods are kinds of Social Infrastructure (Gravel, Where We Want To Live).
1.2.1.1. Act as conveners, encourages community,
1.2.1.2. deepen connections with others that help host dialogic and familial conversation
1.2.1.3. Acknowledgement of and empathy for others
1.2.1.3.1. Sustained over many years, Gravel believes this translates into democratic engagement and voting
1.2.1.4. Design of spaces impact civic life and life in general
1.2.2. public spaces create the opportunity to provide valuable spaces of community empowerment, social and cultural inclusion which are essential to a higher quality of life and wellbeing (Agyeman, Ch. Space and Place, Just Sustainabilities)
1.2.2.1. Warner Beach is a place of cultural and personal inclusion for marginalized group of young men we met. The beach is a place of respite from the outer world that they don't fit into.
1.2.2.2. Darbo and Mentoring Positives is a space where people feel comfortable and safe, feel empowered by programs, people, place, and are included.
1.2.2.2.1. Design and environment of MP Clubhouse is integral to the way youth feel in the space.
1.2.2.2.2. Darbo and Mentoring Positives, at the same time, are denied their right to infrastructure that the majority take for granted.
2. Can community-driven development stand up against private development?
2.1. Community-driven Development
2.1.1. is
2.1.1.1. Development initiated, co-created, and development for, with and by the community it intends to serve or be used by.
2.2. Regular Development
2.2.1. is
2.2.1.1. Development initiated by private owners (property owners, investment owners, private developers), funded privately, and created often for a purpose of their business plan or vision even if it doesn't aligned with the communities needs.
2.2.1.1.1. example: The Department of Corrections Building on the large parcel adjacent to Darbo neighborhood, funded privately and developed and designed by Brad Hutter and team. Serves the vision of the WI State DOC, but not the community.
2.2.1.2. Often has a lot more money to it's benefit, so it's easier to push forward progress on private development
2.2.1.2.1. One reason why we see the design and facade of cities changing very quickly when policies to protect historic context of cities aren't in place.
2.2.1.3. Development initiated by municipalities, funded privately or with city funding, designed by the city to fulfill the vision of a place to meet certain outcomes. Not necessarily designed for all people in a community
2.2.1.3.1. Demographic makeup of planners, designers, public power holders is often white and affluent so they tend to design places that people like them tend to go to instead of designing places underrepresented people would go to. Implicit bias manifestation.
2.2.1.3.2. Political reasons: buy-in and support from public figures who have say in funding, to sway public support, or to address a problem
2.3. Struggling
2.3.1. To see how they both can exist, or if it only one or the other can exist
2.3.2. How community-driven development, that is not profitable in this capitalistic society, could compete and thrive over regular development
3. Can Sustainability and Development co-exist?
3.1. Wahl: "Sustainability is not a fixed state that can be achieved and then maintained forever after. Sustainability is a dynamic process of co-evolution and a community-based process of continuous conversation and learning how to participate appropriately in the constantly transforming life-sustaining process that we are part of and that our future depends on."
3.1.1. Suggests that sustainability must be community-driven; essentially echoing the mission of SISL-that environmental sustainability is not separate from but rather intimately linked to economic and social sustainability.
3.2. Development, the kind we see dominating city landscapes, politics, and power structures in hierarchy in systems in general, is designed for wealth creation among the few, and not designed to be environmentally or economically sustainable.
3.2.1. Current development destroys the environment by building and even more so by deriving the materials it takes to build. Development of even "environmentally sustainable" buildings is not sustainable, because it doesn't solve the fundamental problem of capitalism.
3.2.1.1. Sustainable buildings like passive houses are what I call Sustainable Buildings 1.0. I challenge their understanding of sustainability and argue they are often portrayed to be great but really a way for capitalism to control the market. Cradle to Grave building. Not regenerative.
3.2.1.2. I see this more as a technical solution to a presumed technical problem.
3.2.1.2.1. Wahl states: "If we see this transition only as a technical problem, we are unlikely to create a truly regenerative human culture."
3.3. I struggle to see how true sustainability and development can co-exist. For as long as we can so easily build and bulldoze buildings for whatever justified reasons, we will be no where close to mitigating the problem of climate change.
4. Doughnut Economics
4.1. doughnut aims to reflect the extent to which a country is meeting its people's essential needs while at the same time ensuring that its use of Earth's resources remains within its share of the planet's biophysical boundaries
4.1.1. Urban, Community-driven Sustainable Development reflects the doughnut
4.1.1.1. Traditional Development and the development economy cannot produce community-driven sustainable development
4.1.1.2. requires new economic framework like doughnut economics
4.1.1.3. Critical Question: Given the leverage and sheer power of current political and economic system in the societies mindset, how can we shift the system to the doughnut and to true community-driven, sustainable development?
5. Approach
5.1. Conflict Resolution
5.2. Strong Commitment to Communication to bridge the divides
5.3. Deep listening to listen to understand instead of fix
5.3.1. Will go further in the long run because relationships are critical to progress
5.4. Commitment to relationships regardless of most views builds the respect and trust required to endure long complex systems and theories of change
5.5. Patience and clear asks