Audrey Steves - Skills Map
by Audrey Steves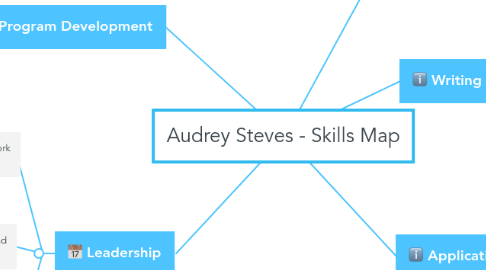 1. Applications
1.1. Microsoft Office
1.1.1. Word
1.1.2. Excel
1.1.3. Powerpoint
1.2. Adobe Photoshop
1.3. Web Design
2. Program Development
2.1. Excellent planning and organization skills
2.2. Complex problem solving & plan building
2.3. Ability to build relationships and establish common goals for collective success
3. Writing
3.1. Report composition and analysis
3.2. Research Proposal
4. Leadership
4.1. Self-motivated and the ability to work independently.
4.1.1. Project specifications
4.1.2. End User requirements
4.1.3. Action points sign-off
4.2. Extensive experience in managerial and team leadership role.
4.2.1. Task delegation and program oversight
4.2.2. Strong collaboration, communication and influencing skills
4.2.3. Demonstrated flexibility and resilience
4.3. Experience setting priorities and meeting deadlines while balancing the needs of providing support for multiple individuals.
4.3.1. Top Priorities
4.3.2. Medium Priorities
4.3.3. Low Priorities
5. Communication
5.1. Excellent oral and written communication
5.2. Strong interpersonal & organizational skills
5.3. Ability to engage effectively with individuals with diverse backgrounds and styles