Corinna Milborn
by
Dan Taylor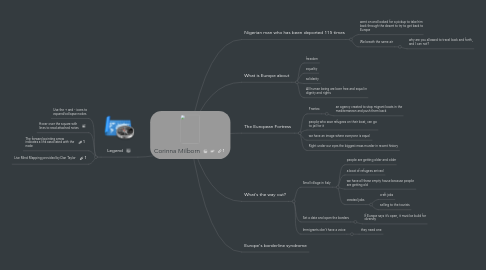 3.0
stars -
1
reviews range from
0
to
5
Corinna Milborn is an Austrian political scientist and journalist. In her early career, she acted as expert in globalisation issues and spokesperson for the WWF. Former Editor in Chief at the human rights magazine Liga and political editor at the news magazine Format, Mrs. Milborn is since 2010 Deputy Editor in Chief at News and host of the TV-talkshow "Club2" at the Austrian Public Television Network. Dealing for a long period with issues of migration, integration, globalisation and human rights, she received among others the Bruno-Kreisky-Award in 2007 for the political book "Gestürmte Festung Europa" and in 2008 the Concordia-Prize for Human Rights.
Nigerian man who has been deported 115 times
went on and looked for a pickup to take him back through the desert to try to get back to Europe
We breath the same air
What is Europe about
freedom
equality
solidarity
All human being are born free and equal in dignity and rights
The European Fortress
Frontex
people who save refugees on their boat, can go to jail for it
we have an image where everyone is equal
Right under our eyes the biggest mass murder in recent history
What's the way out?
Small village in Italy
Set a date and open the borders
Immigrants don't have a voice
Legend
Use the + and - icons to expand/collapse nodes
Hover over the square with lines to read attached notes
Well done!  
Europe's borderline syndrome