Leyla Tavernaro-Haidarian
by
Dan Taylor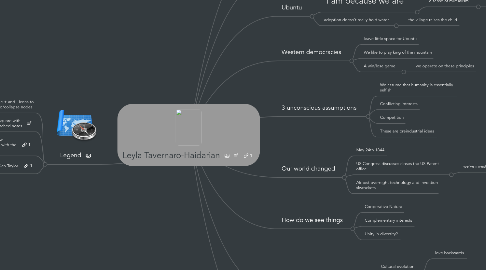 5.0
stars -
1
reviews range from
0
to
5
Leyla Tavernaro-Haidarian is a filmmaker and social activist. She began as a broadcast and print journalist in Los Angeles and Vienna for such companies as Warner Brother/Tribune Media, the American Radio Network and Diva Magazine. Her academic focus has been on social transformation and Iranian Cinema. More recently she has been writing and producing documentaries and television programs in South Africa for a variety of outlets around the world. Her latest projects include a documentary on the evolution and future of democratic governance and an edutainment based television soap opera for Iranian audiences. Her passion is exploring mutualistic paradigms, particularly through art and media, but also in politics and business. She is currently involved in the production of a feature film titled 'Vehicle 19', starring Paul Walker.
Legend
Use the + and - icons to expand/collapse nodes
Hover over the square with lines to read attached notes
Well done!  
Beyond King of the Mountain
Being part of a developing media world in South Africa
Fear factor
Survivor South Africa
Ubuntu
I am because we are
adoption doesn't really hold water
Western democracies
leave little space for Ubuntu
We like to play king of the mountain
A win/lose game
3 unconscious assumptions
We assume that humanity is essentially selfish
Conflicting interests
Competition
These are preindustrial ideas
Our world changed
May 24th 1844
US Congress discusses closes the US Patent office
Almost overnight technology and invention skyrockets
How do we see things
Cooperative Nature
Complementary interests
Unity in diversity?
What do we need to explore
Cultural evolution
Bridalplasty
Think more about spiritual care packages