Computer
by Lesley R Rouell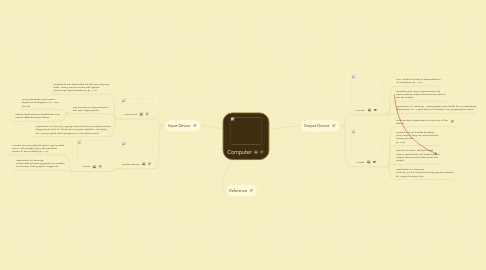 1. Input Device
1.1. Key board
1.1.1. Keyboards are dependant on the user's typing skills. Young users or users with special needs may need asssistance (p. 117)
1.1.2. Key boards are dependent on the user's typing skills.
1.1.2.1. Young students may need a keyboard arranged in an "ABC" format
1.1.2.2. Student with physical disabilities may need a different input device
1.1.3. Application to learning: Typing information to complete written assignments (and for those who are poor spellers –including me –using a spell check program to correct the work)
1.2. Pointer Device
1.2.1. Mouse
1.2.1.1. Mouses are normally set up for righ handed users. Left handed users will need the mouse to be modified (p. 117)
1.2.1.2. Application to learning: Manipulating/moving graphics to creates mind maps, edit graphic images etc
2. Output Device
2.1. Monitor
2.1.1. The Monitor's clarity is dependant on it's resolution (p. 119)
2.1.2. Students with vision impairments will need another output device to be able to use the output
2.1.3. Application to learning: Viewing web/video feeds for an interesting introduction to – insert any era of history I am preparing to teach.
2.2. Printer
2.2.1. Print quality is dependant on the DPI of the device
2.2.2. Printers are not limited to paper only output. They can also produce transparencies (p. 120).
2.2.3. Like the monitor, studients with vision impairments will need another output device to be able to use the output
2.2.4. Application to learning: Printing out the numerous study guides needed for a good history class
3. Reference