KEY008 - Four Things NOT to do and Five thins you must do with your financial affairs when the markets crash.
by
Scott Plaskett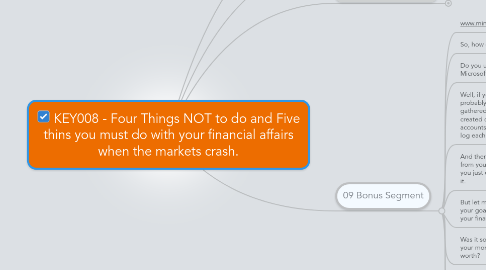 0.0
stars - reviews range from
0
to
5
So, you hear on the news that the markets have crashed. A free fall is often times how the news anchor puts it.
What we're going to talk about today is exactly that.
What should you do?
09 Bonus Segment
www.mint.com
So, how do you keep track of your finances?
Do you use software? Programs like Quicken, Microsoft Money or Simply Accounting?
Well, if you're like most of our clients, you have probably tried to use a software program. You gathered all your statements, sat down, created opening balances for all of your accounts - assets, liabilities and then began to log each and every transaction.
And then, it happened. It simply got away from you. It became almost a full time job and you just didn't have the time to keep on top of it.
But let me ask you this question. What was your goal? Why did you want to keep track of your finances?
Was it so you could see where you spend your money? Was it to track of your net worth?
Well, all this and more can be done, without the nasty logging of transactions. Without the time consuming account reconciliation. Really, without any effort.
So, let me introduce to you www.mint.com. The most user-friendly personal finance program I've come across in a long time. And the best part - it's totally free.
Here's how it works.