Trainer Keri
by Jared Rechenberger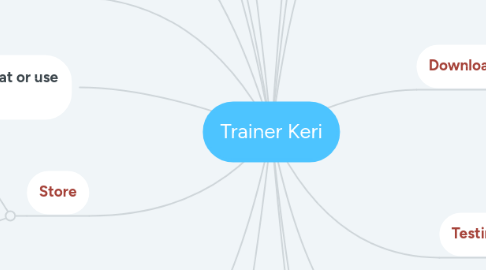 1. Contact
1.1. Location
1.1.1. Map
1.2. Phone
1.3. E-Mail
1.3.1. [email protected]
1.4. Times/Office/Workout Hours
2. Workouts
2.1. The Round house Plunge
2.2. No Time to waist
2.3. 30 second rest
3. Users/Clients
3.1. Access
3.1.1. User Information
3.1.1.1. Membership
3.1.1.1.1. Paid Membership
3.1.1.1.2. Free Users
4. Challenges
4.1. Challenge One
4.2. Challenge Two
5. Blogs/Specials/News
5.1. What is Keri Doing
5.2. Special Offer for new Paid users
5.3. Article: Three things to boost your energy
5.4. Jan - Dec -Archive
6. Calendar/Schedule
6.1. Workout days
6.2. Group Classes
7. Downloads
7.1. Paid Users
7.1.1. PDF Work outs
7.1.2. Discounts
7.1.3. Workout Videos
7.1.4. Facebook
7.1.5. Calender
7.1.5.1. Holidays
7.2. Free Users
7.2.1. Facebook
7.2.2. Calendar
8. About Keri
8.1. Motivational Story
8.2. Bio
8.2.1. 20 years of Knowledge and experience
8.3. Trainer Keri and what I can do for you
9. Social Media
9.1. Facebook
9.2. Linkin
10. Testimonals
10.1. Clients
10.1.1. Get Clients to write about Key things to help boost your clients
11. Motivational Room Chat or use Facebook
11.1. Categories
11.1.1. Diet
11.1.2. Workouts
11.1.3. Basic Info
12. Advertising Website
12.1. Specials
12.1.1. Bring a friend get 30% off
12.2. Landing Pages
12.3. Videos
12.4. Bring a Friend
13. Store
13.1. T-Shirts
13.1.1. Shut Up and Play
13.1.1.1. Completed trainer Keri Bootcamp
13.2. CreditCard
13.2.1. Paypal
14. Gallery
14.1. Team
14.2. Clients
14.3. Events
14.4. Videos
15. FAQ
15.1. Q: Do you Use weights in your workouts?
15.1.1. A: Yes you can. Most of my workouts do not require weights, but if you want a challenge feel free to use them.
15.2. Where can I get a schedule for the workouts?
15.3. Can I still do the workouts even if I do not live in the area?
15.4. Do I have to pay to get motivated from others on your site or is that available with the free members?
15.5. What Can Trainer Keri offer me?
16. Services
16.1. Personal Training
16.2. Classes
16.3. Boot Camp Programs
16.4. Heavy Bag
16.5. Kids Club
16.6. Nutrition Coaching
17. Prices
17.1. Donate
17.2. Gold Memeber
17.3. Platinum Member