TAOTS CHANCELLOR'S DAY TECH COORDINATION 2017
by
The Media Spot, LLC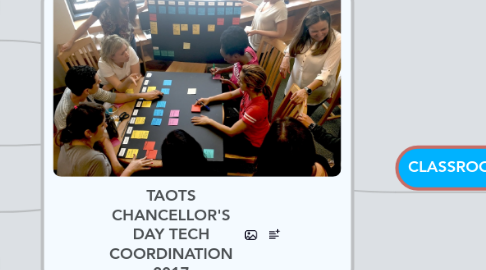 0.0
stars -
0
reviews range from
0
to
5
TAOTS CHANCELLOR'S DAY TECH COORDINATION 2017
This is an image of the workshop in action
K-5 STUDENT TECH COORDINATION
K
1
2
3
4
5
GOAL: Coordinate the skills and content kids need to learn with Aisha to enable your classroom work. (Parking Lot)
GOAL: See Aisha's units next to yours on the calendar. Look for collaboration ops or redundancy.
GOAL: Choose 3 or 4 for all classes on each grade
GOAL: Discuss where they fit on the calendar and HOW TO TURNKEY!
GOAL: Suggest Enrichment Clusters for those units that need more deep focus.
GOAL: Commit to 3 classroom-based activities that enhance existing units, and either differentiation, assessment, or project-based learning.
GOAL: Flag units that you'd like to work with Rhys & Emily on developing.
Are their initiatives that need skills to be covered from tech cluster?
GOAL: Parking lot some ideas from CS4all or Media Literacy topics that could use more depth (robotics, digital citizenship, documentary, news analysis)
OBSTACLES
K - Cluster would cover 3 different CS4all layers (Can we group kids by academic level for CS4all?)
management of batteries
wifi traffic (esp given how we're growing)
What do bulletin boards look like with less science
Paying for apps
Subscriptions and Emails for 5th Grade
SCIENCE SPECIALTY
GOAL: Map how technology is incorporated in Science cluster
If we are replacing 1 period of science from classroom with 'computer science', how does that affect the Science curriculum?
OUTCOME: Pacing Calendars to be digitized