KEY010 - Should you take a reduced Canada Pension Plan now or a full Canada Pension Plan later?
by
Scott Plaskett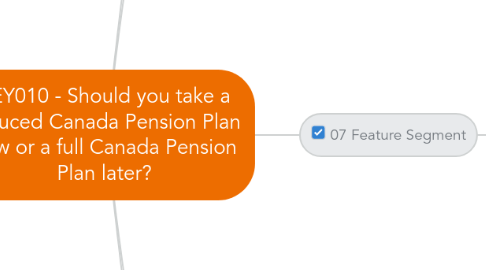 0.0
stars - reviews range from
0
to
5
So Scott, what's new?
Scott: I've been having some really interesting conversations with clients recently.
Cathy: Because of the dismal state of the markets?
Scott: Well, yes, and no. I mean yes because that's where the conversation usually starts and then we review the research on what you should do when the markets crash. But, that conversation begins and ends pretty quickly as a result of our analysis. The conversation then moves on to a more important one. And, by the end of that discussion, they are usually really quite confident with everything that they are doing.
Cathy: Why are they so confident?
Scott: Because of what they learn during the discussion. You see, during our review meetings, we take a look at one very special report that clearly illustrates whether or not a client has or will have enough wealth to accomplish their financial goals.
And, what is extremely interesting about this report is that it very clearly illustrates the difference between good wealth and bad wealth.
Cathy: There's a bad kind of wealth?
Scott: Oh yes there is. The bad kind of wealth is the kind that you can't easily convert into cash flow. The kind that you would find in say, your house. The equity in your house can be seen as bad wealth (when it comes to retirement income planning anyway). But, the great thing is that our analysis very clearly illustrates the level of good wealth to bad wealth and allows our clients to see exactly what their options are in the future to ensure a comfortable retirement.
Recognizing today that a) there is enough wealth to accomplish a client's financial goals but b) that the wealth is not distributed properly, allows clients to better understand what they are on track for. And allows them to mentally prepare for what could be necessary in the future. It's the closest thing to fortune telling I've ever seen.
Cathy: Is this new?
Scott: Yes, new and improved.
The great thing is that we are able to re-calibrate a client's plan using current values to show them exactly what the impact is on their ability to achieve their financial goals. All because we went through The KAIZEN Financial Planning Process with them initially do we have better information to draw upon to make great decisions.
Cathy: And clients are liking this?
Scott: Oh yeah. Anything that can build a client's confidence in what they are doing, is a step in the right direction - it's a good thing.
Cathy: Sounds to me like this information will give clients a sense of control. And that can only help them weather the uncertainty of the markets. I like it!
What is the Canada Pension Plan?
When can those who qualify receive the Canada Pension.
Get an estimate of your pension.
Common questions answered.
So, in summary
There is no rule of thumb. But, there is a right answer for you.
This report will show you exactly what questions to ask any financial planner you decide to interview. The questions have been designed to illustrate to the planner that you are serious about the relationship. And, they have been designed in such a way that by the end of the discussion, you will have a very clear picture of the services you will be receiving and the costs involved in obtaining those services. If the planner you are interviewing embraces these questions and answers them completely and to your satisfaction, you should put them on your "A" list. You should then be choosing the planner you work with from this "A" list.
01 Intro
This is The Key To Retirement Episode 10.